Jon Stewart Remembers Steve Carell's 'Catch and Release' Moment With John McCain in 2000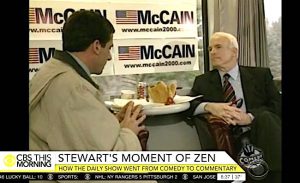 Many people have said that Jon Stewart's signature voice was largely missing from the 2016 election landscape; after all, the former host of The Daily Show — who spent 17 years helming the political satire late night show — vacated his chair at the end of last summer, right as the primary process was getting underway.
While his successor has held his own (and for that matter, all of his successors have held their own), the interest in Stewart's take on the outcome of the election has been high. The former late night king sat down with Charlie Rose of CBS for an extended interview, and in the latest installment that debuted Tuesday morning, Stewart revealed some of the best legacy pieces from the show's history.
One particular example that Stewart fondly recalled was a clip from the 2000 election when correspondent Steve Carell interviewed Senator John McCain on the campaign trail.
Chris Smith, the author of the new oral history of The Daily Show, remarked to Rose, "Carell is a world class improvisor," and those chops were on full display during the moment in question.
"Senator, how do you reconcile the fact that you were one of the most vocal critics of pork barrel politics and yet while you were Chairman of the Commerce Committee, that Committee set a record for unauthorized appropriations?" asked baby-faced Carell in his pre-Office years.
Smith describes McCain's reaction as his "deer in the headlights" moment, while Stewart says that that moment was the perfect iteration of what The Daily Show did so well: catch and release.
"I'm just kidding!" Carell said promptly. "I don't even know what that means!" he says with a laugh, lightening the tension on the campaign bus.
"It's that idea of 'I got you, here's my one moment. I'm going to — with a scalpel — go at the crux of your identity as a politician.'" Stewart continued.
Watch the full segment above from CBS This Morning.
—
[image via screengrab]
Have a tip we should know? tips@mediaite.com