Jonathan Tasini Didn't Pay His Contributors, Either, And Other Insights Into The Man Behind The HuffPost Lawsuit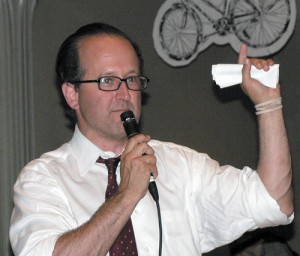 As it turns out, Jonathan Tasini, the journalist and union leader behind the lawsuit filed against the Huffington Post, Arianna Huffington and Aol for not paying its contributors, also keeps a blog off his own – called Working Life – that offers interested writers the opportunity to produce content… for free.
Gawker, noting that Working Life featured a means of contacting Tasini with advertising inquiries, asked him whether he ever successfully sold ad space on his blog and, if so, whether he used that profit to reimburse his contributors for their work:
There was never a thought that we would do that.

Oh, I see what you're doing. Are you comparing my little blog to the Huffington Post? That's absurd.
Gawker concedes this point while also noting that Tasini has something of a history of "getting paid without doing too much work himself," pointing to his previous lawsuit against The New York Times Co. as well as his "Creators Federation" project – a now-defunct nonprofit from which Tasini managed to receive $46,700 in consulting fees between 2002 and 2003.
The nonprofit, Tasini explains, was created as a lobbying group for creative writer types, but he was forced to shut it down after two years when he didn't receive the response he'd hoped.
The article manages to make Tasini seem opportunistic (a criticism Huffington also hinted at in her response to the lawsuit) but – playing Devil's Advocate here – the man could also be seen as someone who is just plain creative when it comes to making money. If you can't beat the system, join it to a degree. Then try to beat it again.
The same goes for fighting the blogging machine as with running for Congress, we suppose.
h/t Gawker
Have a tip we should know? tips@mediaite.com