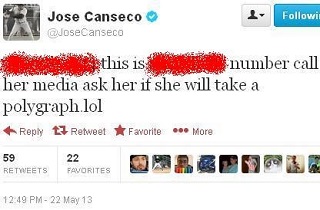 Former Major League baseball player and Assistant Ruiner of America's Pastime Jose Canseco's normally chuckle-worthy Twitter feed turned ugly-on-steroids today. This morning, Canseco tweeted that he had been "charged with rape," and went on to name his alleged accuser, and tweet what he said was her phone number (which he has since deleted) daring members of the media to ask her to take a polygraph exam. Buzzfeed has the full redacted rundown of Canseco's tweets (many of which have now been deleted) pushing the woman, whom he says told police that Canseco "druged and raped" her, to take a polygraph test.
From Buzzfeed:
According to a spokesperson with the Clark County District Attorney's office, no criminal charges against Canseco were in the system at this time. The spokesperson added that it was possible they would not yet be in the system if the charges were just filed.
According to The Las Vegas Review Journal, police confirm that Canseco has not been charged, but is a "person of interest":
Controversial baseball player Jose Canseco is a person of interest in a sexual assault in Las Vegas, police confirmed.

The 48-year-old minor league ballplayer and admitted steroid user posted the accusations on his Twitter account Wednesday morning. Las Vegas police said Canseco has agreed to an interview, although that hadn't happened as of Wednesday.
As Buzzfeed points out, Canseco's tweets appear to be a violation of Twitter's Terms of Service, and there's a movement afoot to have him banned.
This is also, apparently, not the first time Canseco has used this particular form  of bullying. From Wonkette's Rich Abdill:
In case you were for some reason thinking this is the first time he has done this, it is not. Back in 2011, Jose tweeted the cell phone number of a bikini model who dumped him; this, surprisingly, did not go very well for her. He called Yr Wonket a piece of shit, back when we were but a small intern in Miami, so we put Canseco's cell phone number in the newspaper.

"Piece of shit," though, doesn't seem very far off — posting somebody's cell phone number is a pretty shitty thing to do, especially when you have, say 511,000 Twitter followers, and are doing it to intimidate a victim of an alleged sexual assault.
Wonkette goes on to re-publish Canseco's phone number, which you should definitely not get, by clicking the link, and give the guy what-for.
Have a tip we should know? [email protected]