Journalist Security Group Offering Crash Course in How to Survive the Conventions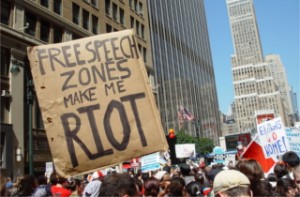 A group that provides safety preparation for journalists going into war zones is offering a different kind of crash course: how to survive the conventions.
Global Journalist Security is offering a two-day training program in staying safe from riots and violence that might might arise from "protesters" and "party militants." According to their website, Global Journalist Security trainers include former military, law enforcement, and counter-terrorism personnel.
U.S. News & World Report's Steven Nelson writes:
Frank Smyth, a press freedom advocate who founded the organization in 2011, worked more than a decade at the Committee to Protect Journalists and says reporters risk a variety of threats, be it a punch in the face or an arguably unjustified arrest.

"If Mr. Trump doesn't get the delegates it's going to be intense, and there are also going to be protesters outside the convention of all kinds," Smyth says.

American political conventions routinely are magnets for activists, and the Cleveland event has an added question mark not only from a possibly contested nomination, but with Trump's campaign-trail rhetoric rountinely inspiring protests and scuffles.

Smyth says he grew particularly alarmed this year as Trump consistently attacked cameramen for not showing crowds at mega-rallies. The GOP front-runner, who often calls reporters "the most dishonest people," has warned that his own supporters may riot if he is denied the nomination.
The course is designed to be relevant to the Democratic convention in Philadelphia, though Smyth said: "To suggest [the RNC] could see the worst acts of political violence at a convention since 1968 is no hyperbole."
[image: Republican National Convention in New York City, 2004. Jonathan McIntosh via Wikimedia Commons]
Have a tip we should know? tips@mediaite.com