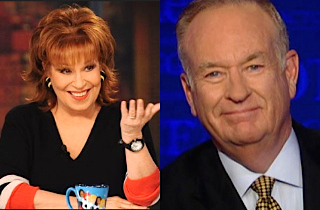 It's been more than four years since Joy Behar and Whoopi Goldberg stood up and walked out of The View during an appearance by Fox News' Bill O'Reilly. But the moment left such a lasting impression that Howard Stern wanted Behar to tell him what exactly happened when she was on his SiriusXM show Monday.
"I was shocked by that," Stern said of the walk-out, "because I feel if you have a show and you invite someone on that they're a guest." He said you don't have to agree with them, but "why walk off your own show if he's a guest on the show? Just don't have them on."
Behar pointed out to Stern that she was not in charge of booking The View when she was a host and would not have invited O'Reilly to appear. "I don't find him amusing in any way, I don't find him interesting in any way," she said, adding that she normally would not walk off the set of her own show but "there was something propelling my ass out of the seat."
She said she "absolutely" does not regret the move, especially given all the publicity it drummed up for her and The View. As for how O'Reilly reacted backstage after the incident, she said, "He's shameless, he doesn't give a shit."
And, while her boss Barbara Walters was "pissed" about the move immediately after it happened, as soon as she saw the viewer numbers go up from it, she didn't mind so much.
"Everything is forgiven when you get ratings," Stern remarked.
Listen to audio below, via The Howard Stern Show:
And you can watch the walk-out moment from 2010 below, via ABC:
[Photos via ABC/Fox]
— —
>> Follow Matt Wilstein (@TheMattWilstein) on Twitter
Have a tip we should know? tips@mediaite.com