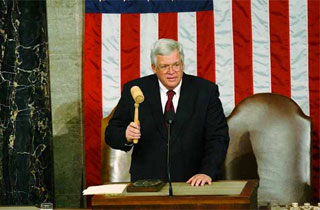 The judge slated to preside over former GOP House Speaker Dennis Hastert's trial suddenly has an awkward conflict of interest: Not only did he donate twice to Hastert's campaigns, his brother also happens to be an eminent GOP politician in Illinois.
Politico reports that U.S. District Court Judge Thomas Durkin donated twice to Hastert's campaigns — $500 in 2002 and $1000 in 2004 — while he was working at a private law firm. In addition, his brother, Jim Durkin, is the Minority Leader in the state's House of Representatives.
However, according to New York University law professor Stephen Gillers, it probably won't be that much of an issue for either side in the case, as long as Durkin discloses it. "Donating $2000 to a political campaign is a not a basis to question the judge's impartiality when a candidate becomes a defendant," he noted.
(Though he was an Obama nominee, Durkin was elevated to the court on the recommendations of Illinois Senators Dick Durbin (D) and Mark Kirk (R). Senatorial courtesy, punks.
Hastert was indicted late last week on charges that he attempted to hide $1.7 million worth of cash withdrawals from bank authorities and lied about it, allegedly to pay off a person who threatened to disclose Hastert's "previous misconduct". (Reports indicate that Hastert had sexually abused a male student while he worked as a teacher and wrestling coach in a Yorkville, Il. high school, long before he became speaker.)
[Image via U.S. House of Representatives]
—
>> Follow Tina Nguyen (@Tina_Nguyen) on Twitter
Have a tip we should know? tips@mediaite.com