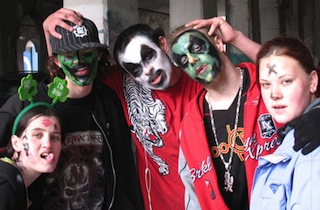 Fuckin' currencies, how do they work?
On Thursday, an elite sideboob of the American population will have its own cryptocurrency, as JuggaloCoin goes live. The currency will be introduced via "The Hatchet Drop," in which 470,890 coins, or roughly 1% of the total amount, will be made available on Twitter.

Papa Nutt, the Ben Bernanke of the operation, is offering discounts to Gathering vendors who accept the virtual moola; the hope is to establish it during the annual festival ("No one wants to be the one vendor at Gathering of the Juggalos who doesn't accept JuggaloCoin!"), move it to the ICP online store, and eventually so embed it in the culture that Juggalos can use it to purchase couches from each other on Craigslist (not kidding, that's the example given).
RELATED: 'Coinye': Kanye West Inventing His Own Currency?
If you're not a Juggalo, howevs — a quick glance in the mirror should confirm this — go find your own currency. "These are coins that rightfully belong to the Juggalo Family," Nutt said. "If someone is pretending to be a Juggalo just to get coins, that's basically stealing from the Family. PUBLICLY. Trust me, that's not something you want to do."
To obtain a coin, you'll have to tweet some evidence of your Juggalo cred, unless you register for the early open enrollment to the "Insane Coin Possee" [sic]. "You don't have to be black to support Civil Rights, and you don't have to be a Juggalo to support the Juggalo Family," Nutt said.
Whatever. As one of the two bards once put it, "I may be ugly, but at least I ain't got no money." Now only one of those is completely true!
[h/t VICE]
[Image via BuzzNet]
——
>> Follow Evan McMurry (@evanmcmurry) on Twitter
Have a tip we should know? tips@mediaite.com