Seriously? PolitiFact Fact Checks Unattributed Facebook Posts About Health Care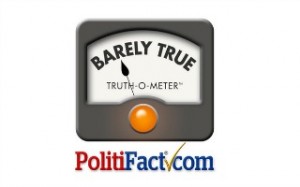 PolitiFact, the fact checking organization operated by the Tampa Bay Times, has taken to addressing the scourge of our generation – baseless political rants on Facebook.

RELATED: PolitiFact Nails Chris Matthews For Misrepresenting Florida Voter Registration Law
We all have them – well, those of us who have a Facebook profile. That is, friends with a political opinion that is as carefully formulated after hours of agreement between them and their bubble of like-thinking compatriots.
Thankfully, PolitiFact is here to take your bunk-spewing friends to task.
One anonymous Facebooker says "Mitt Romney's top five donors are Wall Street firms, while Barack Obama's top five are technology companies and universities." PolitiFact rating: Half true. "The donors on the list are pretty accurate, but they aren't descried correctly," PolitiFact notes.
Another Facebook poster writes "Romneycare covers abortion, illegal immigrants and has a public option. Obamacare does not." Actually, you're wrong! PolitiFact rating: mostly false. "Misses the mark on several points," they write.
"More than 43 percent of all food stamps are given to illegals," writes one Facebook user. This offense inspired a PolitiFact rating of "pants on fire" due to its mathematical impossibility.
"Mitt Romney is wrong to claim that spending under Obama has "accelerated at a pace without precedent in recent history," because it's actually risen "slower than at any time in nearly 60 years," writes an aspiring Facebook pundit.
"Surprise," writes PolitiFact. This "viral post is basically right." At least a few Facebook posters are also policy wonks.
PolitiFact should be lauded for addressing the real trials of our age – misleading, anonymous internet trolls. Now you can rejoin the forum discussion on the latest election year controversy armed with the facts.
> >Follow Noah Rothman (@Noah_C_Rothman) on Twitter
Have a tip we should know? tips@mediaite.com