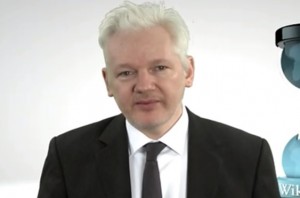 Julian Assange is speaking out in a new interview reflecting on Wikileaks' role in the U.S. election.
Assange spoke with La Repubblica and immediately dismissed the idea that he was in the business of helping Donald Trump.
And he has this assessment of how Trump's team is beginning to form:
"Donald Trump is not a DC insider, he is part of the wealthy ruling elite of the United States, and he is gathering around him a spectrum of other rich people and several idiosyncratic personalities. They do not by themselves form an existing structure, so it is a weak structure which is displacing and destabilising the pre-existing central power network within DC. It is a new patronage structure which will evolve rapidly, but at the moment its looseness means there are opportunities for change in the United States: change for the worse and change for the better."
As for Hillary Clinton, Assange is far more critical. He claims, "It is clear that she pursued this war [in Libya] as a staging effort for her Presidential bid."
He reiterated his position that Wikileaks simply got information about her because they previously released information on Clinton while she was at State and "it is natural for sources who have information on Hillary Clinton to come to us."
In recent weeks there have been reports about an intel consensus on Russian interference in the election, potentially to help Trump. Assange has denied that the Russian government was his source.
He thinks that Clinton's election "would have been a consolidation of power in the existing ruling class of the United States," and had this to say about the end result of Clinton going after Wikileaks:
"Power is mostly the illusion of power. The Pentagon demanded we destroy our publications. We kept publishing. Clinton denounced us and said we were an attack on the entire "international community". We kept publishing. I was put in prison and under house arrest. We kept publishing. We went head to head with the NSA getting Edward Snowden out of Hong Kong, we won and got him asylum. Clinton tried to destroy us and was herself destroyed. Elephants, it seems, can be brought down with string. Perhaps there are no elephants."
[image via screengrab]
— —
Follow Josh Feldman on Twitter: @feldmaniac
Have a tip we should know? tips@mediaite.com
Josh Feldman - Senior Editor