Just FYI: Mass Shootings Aren't on the Rise and America Isn't More Violent than Ever
In light of the Las Vegas shootout this past weekend, along with the terrifying Isla Vista slayings earlier in June, New York magazine published a helpful reminder that despite the media hype, mass shootings are not on the rise and, no, America is not descending into some Mad Max-like, post-apocalyptic wasteland of violence.

Based on data from Northeastern University criminologist James Alan Fox, who has tracked mass-shooting incidents (4+ fatalities) from 1976 until two years ago (most recent FBI data available), NY mag's "Science of Us" blog created this helpful graph: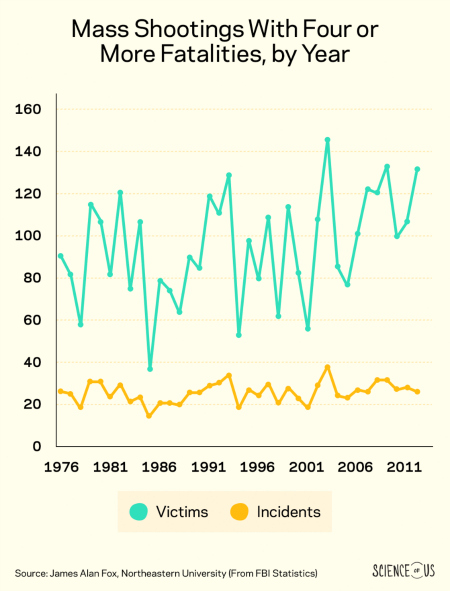 Clearly no upward trend there. And as the Science of Us blog noted, the data wouldn't change much if you defined "mass shootings" as 3+ fatalities instead. Additionally, Department of Education statistics show no upward trend in school shooting victims.
The question then becomes: Why does it feel like things are getting worse at an increasingly fast pace? The answer requires a bit of self-reflection from us in the media. Science of Us neatly summed up the answer: "Every incident immediately explodes onto the national stage and is then amplified a millionfold by social media."
More broadly, property and violent crime in the U.S. have been on the decline for more than two decades.
-RELATED: There Is No Such Thing as 'Objective' Journalism — Get Over It
And yet such facts get ignored for a variety of reasons. Last month, the Hamtramck Police Department in Michigan boasted on its Facebook page about a new military assault vehicle they'd received from the government. Though they allegedly had no plans to use it for action, I spotted the department's Chief Max Garbarino telling critics — who worried it could become part of the increasing militarization of local police forces (as per the drug war) — that "our society has become more violent."
When confronted, he revealed the exact ignorance of facts I remarked upon above. The entire Facebook post has been mysteriously deleted, but here's a screengrab of the initial exchange: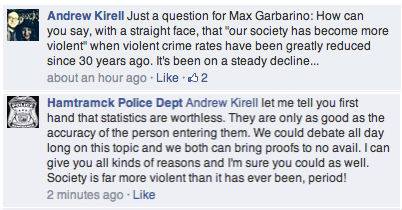 Catch that? "Society is far more violent than it has ever been, period!" Some pretty factually illiterate nonsense from a person in charge of law enforcement (and the safety) of a small town of 20,000+ people. He later claimed I had simply taken him out of context, and after some more back-and-forth, gave this final backpedal:

Bizarre backtracking aside, the point still stands: Too many people allow a lack of concern for data trends to cloud judgment.
Now, of course, all of this says nothing about how our shooting/violent crime rates compare to other countries, nor does it imply any specific policy recommendations. But trends in available data should provide perspective, especially in contrast to media hysterics, and hopefully can help steer policymakers and law enforcement on all sides of the proverbial aisle away from making ill-informed decisions.
[Featured image via Shutterstock]
— —
>> Follow Andrew Kirell (@AndrewKirell) on Twitter
Have a tip we should know? [email protected]