Justice Dept to Announce No Charges Against Zimmerman for Death of Trayvon Martin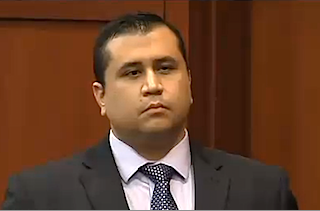 According to ABC News, George Zimmerman will not face any charges — civil rights or otherwise — for the shooting death of Trayvon Martin. Martin was killed in February 2012, and Zimmerman was acquitted in a high-profile July 2013 trial.
This DoJ investigation had been viewed by the Martin family and other civil rights activists as a last potential option within the legal system to charge Zimmerman.
Zimmerman has been the subject of multiple arrests since his acquittal, including for domestic violence, road rage, and aggravated assault with a weapon.
Today's news seems to echo a Washington Post report from late last year that the DoJ would not pursue civil rights charges against Zimmerman.
UPDATE — 3:30 P.M. ET: Trayvon Martin's family released the following statement:
"We would like to thank the Department of Justice for their extensive and thorough investigation into the killing of our son.

We would also like to thank the millions of people around the world who have supported us through prayer and vigilance.

Although we are disappointed in these findings, it has steeled our resolve to continue traveling the country with the message of the Trayvon Martin Foundation, which is dedicated to protecting our youth and empowering those who demand justice and peace.

We remain poised to do everything in our power to help eradicate senseless violence in our communities, because we don't want any other parents to experience the unexplainable loss we have endured.

We will never, ever forget what happened to our son, Trayvon, and will honor his memory by working tirelessly to make the world a better place."
And here's the full DoJ release:
WASHINGTON – The Justice Department announced today that the independent federal investigation found insufficient evidence to pursue federal criminal civil rights charges against George Zimmerman for the fatal shooting of Trayvon Martin on Feb. 26, 2012, in Sanford, Florida. Prosecutors from the Justice Department's Civil Rights Division, officials from the FBI, and the Justice Department's Community Relations Service met today with Martin's family and their representatives to inform them of the findings of the investigation and the decision.

"The death of Trayvon Martin was a devastating tragedy. It shook an entire community, drew the attention of millions across the nation, and sparked a painful but necessary dialogue throughout the country," said Attorney General Eric Holder. "Though a comprehensive investigation found that the high standard for a federal hate crime prosecution cannot be met under the circumstances here, this young man's premature death necessitates that we continue the dialogue and be unafraid of confronting the issues and tensions his passing brought to the surface. We, as a nation, must take concrete steps to ensure that such incidents do not occur in the future."

Following the shooting, a team of some of the department's most experienced civil rights prosecutors and FBI agents conducted a comprehensive, independent investigation of the events of Feb. 26, 2012. The federal investigation was opened and conducted separately from the state of Florida's investigation of the shooting under local laws. Once the state initiated the second-degree murder prosecution, federal investigators began monitoring the state's case and halted active investigation in order not to interfere with the state's trial. Federal investigators provided reports of interviews and other evidence they obtained to the state's prosecution team.

Shortly after Zimmerman's acquittal in state court on July 13, 2013, federal investigators resumed active investigation. Federal investigators reviewed all of the material and evidence generated by the state of Florida in connection with its investigation and prosecution of Zimmerman, including witness statements, crime scene evidence, cell phone data, ballistics reports, reconstruction analysis, medical and autopsy reports, depositions, and the trial record. Federal investigators also independently conducted 75 witness interviews and obtained and reviewed the contents of relevant electronic devices. The investigation included an examination of police reports and additional evidence that was generated related to encounters Zimmerman has had with law enforcement in Florida since the state trial acquittal. In addition, federal authorities retained an independent biomechanical expert who assessed Zimmerman's descriptions of the struggle and the shooting.

The federal investigation sought to determine whether the evidence of the events that led to Martin's death were sufficient to prove beyond a reasonable doubt that Zimmerman's actions violated the federal criminal civil rights statutes, specifically Section 3631 of Title 42 of the U.S. Code or Section 249 of Title 18 of the U.S. Code, as well as other relevant federal criminal statutes. Section 3631 criminalizes willfully using force or threat of force to interfere with a person's federally protected housing rights on account of that person's race or color. Section 249 criminalizes willfully causing bodily injury to a person because of that person's actual or perceived race. Courts define "willfully" to require proof that a defendant knew his acts were unlawful, and committed those acts in open defiance of the law. It is one of the highest standards of intent imposed by law.

The federal investigation examined whether Zimmerman violated civil rights statutes at any point during his interaction with Martin, from their initial encounter through the fatal shooting. This included investigating whether there is evidence beyond a reasonable doubt that Zimmerman violated Section 3631 by approaching Martin in a threatening manner before the fatal shooting because of Martin's race and because he was using the residential neighborhood. Investigators also looked at whether there is evidence beyond a reasonable doubt that Zimmerman violated Section 3631 or Section 249, by using force against Martin either during their struggle or when shooting Martin, because of Martin's race.

"Although the department has determined that this matter cannot be prosecuted federally, it is important to remember that this incident resulted in the tragic loss of a teenager's life," said Acting Assistant Attorney General Vanita Gupta of the Civil Rights Division. "Our decision not to pursue federal charges does not condone the shooting that resulted in the death of Trayvon Martin and is based solely on the high legal standard applicable to these cases."

After a thorough and independent investigation into the facts surrounding the shooting, federal investigators determined that there is insufficient evidence to prove beyond a reasonable doubt a violation of these statutes. Accordingly, the investigation into this incident has been closed. This decision is limited strictly to the department's inability to meet the high legal standard required to prosecute the case under the federal civil rights statutes; it does not reflect an assessment of any other aspect of the shooting.

The Justice Department is committed to investigations of allegations of bias-motivated violence and will continue to devote the resources required to ensure that allegations of civil rights violations are fully and completely investigated. The department aggressively prosecutes criminal civil rights violations whenever there is sufficient evidence to do so.
[Image via screengrab]
— —
>>Follow Andrew Desiderio (@forza_desiderio) on Twitter
Have a tip we should know? tips@mediaite.com