Justin Bieber's Christmas Video With Mariah Carey: Creepy, or Really Creepy?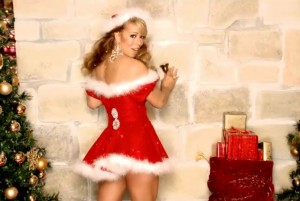 On Wednesday, Justin Bieber released the video for his duet with Mariah Carey, a remake of Carey's suddenly-classic "All I Want For Christmas Is You." The song, released in November 1994 — just eight months after Bieber was born — didn't really need an update, especially one with laughably blatant Nintendo 3DS product placement. But, somebody, somewhere thought it would make money (and that Michael Buble's version wasn't enough), and it was unleashed on the world.
In the first half of the video, Carey is dressed in a skimpy Santa outfit, and poses against a wall in various sexy poses (although she tends to go for the "back-to-the-camera-while-looking-over-her-shoulder" pose every other time the camera is on her). Bieber, meanwhile, is shopping with friends and joyfully doing that thing where people throw gifts into those ubiquitous Macy's shopping carts. Sexy singer and teenager. Fine.
In the second part, Bieber and Carey are now together as crowds surround them. Carey is sitting in a sleigh, and Bieber eventually joins her. That's when the sexual energy gets ramped up. The two flirt, Carey flashes her legs as Bieber stands across from her in the sleigh, and we get the idea that this might lead to something less innocent. At one point, it almost looks like they might neck. Then a puppy shows up, and the video ends.
Nothing says Christmas like product placement, cleavage, Macy's shopping carts, and a 17 year-old Canadian who just emerged from an insane scandal where he allegedly impregnated an older woman… flirting with an older woman. Is the song good? Yes, it actually kind of benefits from Bieber's addition. Is the video unnecessarily awkward and creepy? Absolutely. But how creepy it actually is remains up to the individual.
Watch the video below, courtesy of Bieber's VEVO channel, and judge for yourselves:
Have a tip we should know? tips@mediaite.com