Kaitlan Collins' CNN Colleagues Slam WH for Blocking Her from Trump Event: 'Highly Alarming'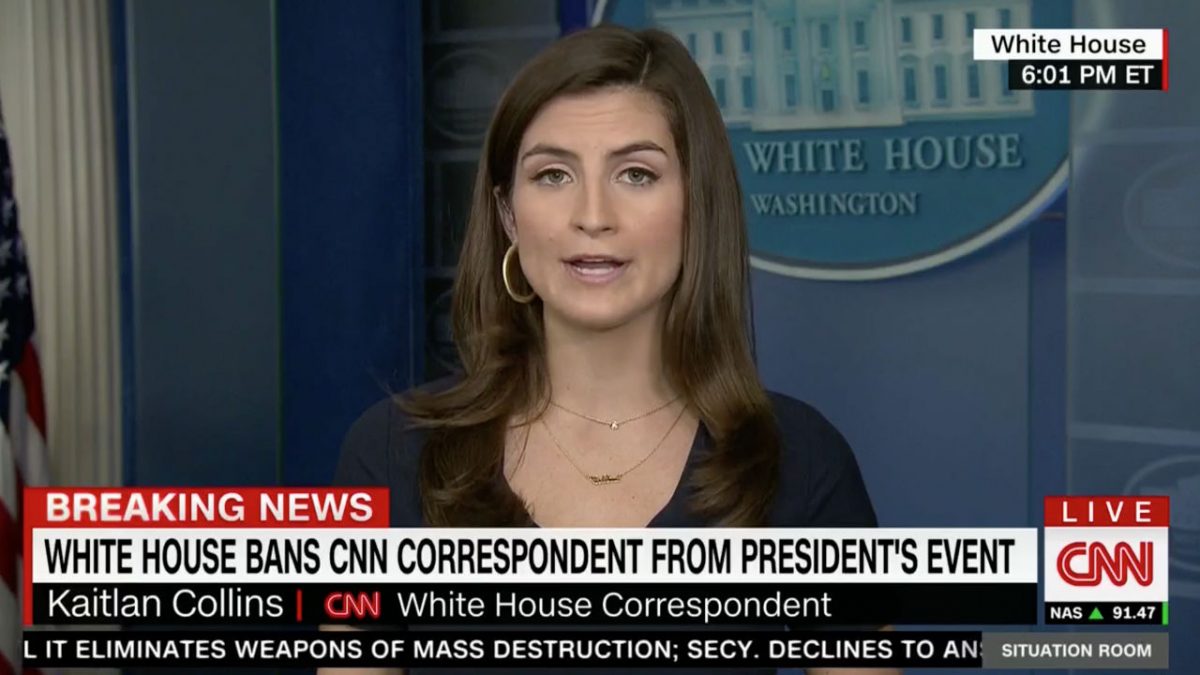 Media Twitter erupted tonight over the White House blocking CNN's Kaitlan Collins from President Trump's Rose Garden event because of her questions to Trump earlier.
During the brief pool spray this afternoon, Collins shouted out questions to Trump about Michael Cohen and Vladimir Putin. Many reporters try asking questions during pool sprays, but for some reason the White House decided Collins was out of line.
Many of Collins' CNN colleagues came to her defense:
So let me get this straight? A reporter asked questions? And did it out loud? To a public official?

— John Berman (@JohnBerman) July 25, 2018
Siren – my kick ass colleague @kaitlancollins was banned from an open press event for asking legit questions of the president on behalf of the 5 network pool. As a former White House reporter and as an American – this is outrageous and highly alarming.

— Dana Bash (@DanaBashCNN) July 25, 2018
Absolutely disgraceful behavior from @presssec and Shine. @kaitlancollins is a tough professional and had every right to ask about Cohen, about whom POTUS has repeatedly tweeted. WH press corps and media writ large needs to unite against this. https://t.co/ryg3Uj8qvG

— Jake Tapper (@jaketapper) July 25, 2018
The White House barred one of our reporters from an event today because they didn't like the totally normal questions she asked earlier. What will the the other networks do? And why is the WH doing this? https://t.co/jBkX4LQxTI

— Hadas Gold (@Hadas_Gold) July 25, 2018
Reporters ask questions. That's their job. https://t.co/q3zmRuC71R

— Chris Cillizza (@CillizzaCNN) July 25, 2018
When Collins was on CNN earlier, Wolf Blitzer also expressed his shock at this move.
And many others in the press followed suit:
The television pooler — representing reporters from all five of the major US TV networks — has the duty of asking questions on behalf of ALL of us in broadcast journalism. Every network benefits from his/her effort. https://t.co/xqpeVLobG3

— Steven Portnoy (@stevenportnoy) July 25, 2018
We compete against CNN and we want to win by having the best reporting.

But not like this. It is dead wrong what the White House did to CNN by excluding them from an event because they didn't like questions on topics the President HIMSELF is tweeting about: https://t.co/FchVHTkkU7

— Tom Winter (@Tom_Winter) July 25, 2018
"ok gang how do we distract from the awkward questions that we didn't like in that oval pool spray?"

"um, ban the reporter who asked them from the next event?"

"but wouldn't that basically guarantee those questions get replayed ad nauseam?"

"nah"

— E McMorris-Santoro (@EvanMcS) July 25, 2018
This is absurd and UNACCEPTABLE. https://t.co/YJIVavA7K5

— Megyn Kelly (@megynkelly) July 25, 2018
. @kaitlancollins asked some of the best questions of this White House as a Daily Caller reporter, and she has continued asking some of the best questions as a CNN reporter. She also happens to be one of the nicest reporters I know. You should follow her if you don't already.

— Yashar Ali ? (@yashar) July 25, 2018
If the White House banned a fellow reporter from an open-press event because of her shouted questions, let's be clear: it is inexcusable, unacceptable, and sets an extremely dangerous precedent.

We shout questions at the president regularly. It's called: doing our job. https://t.co/rrZiiLMjkg

— Hallie Jackson (@HallieJackson) July 25, 2018
This is comic-book-villain level ridiculous by the White House. Do they think they can tell a reporter they're banning her because she asks questions they don't like and the whole world won't find out? Sheesh. https://t.co/y6a4xozHyn

— Garrett Haake (@GarrettHaake) July 25, 2018
Indeed: Alarming and dangerous https://t.co/0AjvnePGR8

— Kasie Hunt (@kasie) July 25, 2018
As a member of the White House Press pool- @FoxNews stands firmly with @CNN on this issue and the issue of access https://t.co/TFwfLQtP9h

— Bret Baier (@BretBaier) July 25, 2018
Statement from @whca President @OKnox https://t.co/9Qpzj3AOQr pic.twitter.com/sZbOCc3kww

— WHCA (@whca) July 25, 2018
[image via screengrab]
— —
Follow Josh Feldman on Twitter: @feldmaniac
Have a tip we should know? tips@mediaite.com
Josh Feldman - Senior Editor