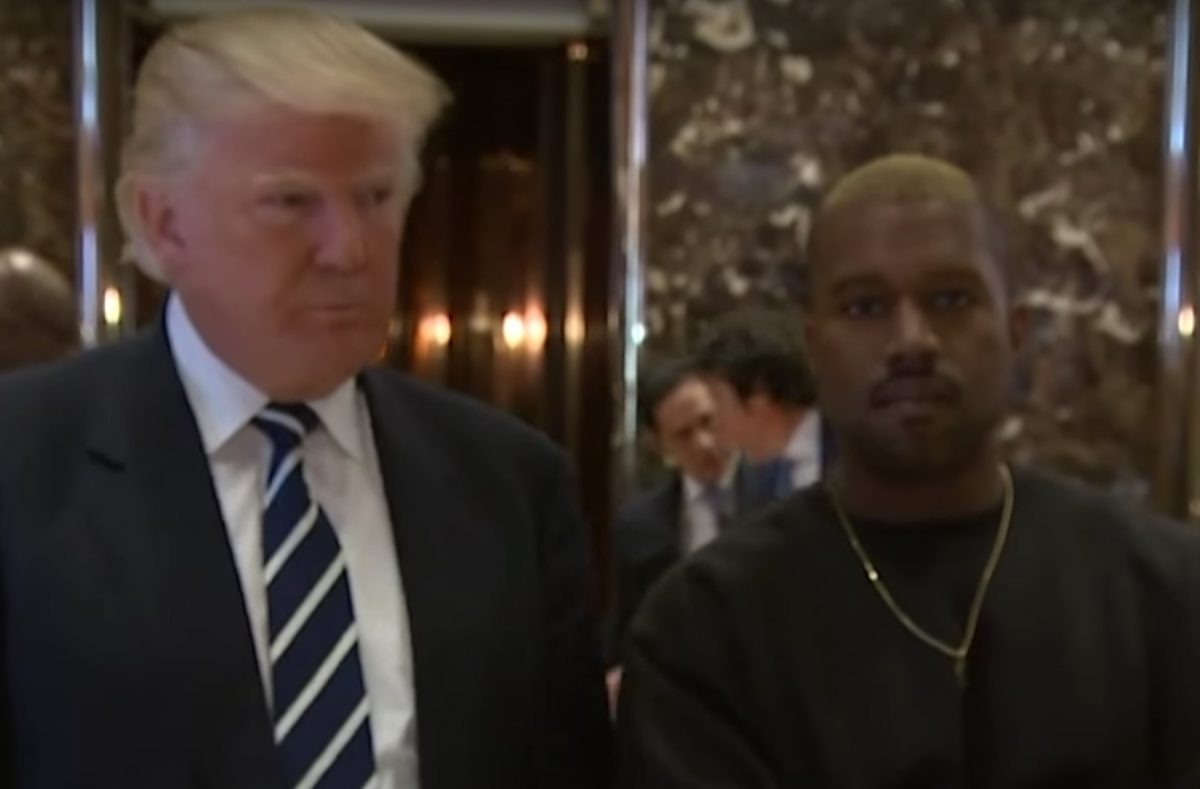 Add this to the growing list of things we did not anticipate a Donald Trump administration would usher in: Kanye West, alt-right icon.
Kanye's road from Jay-Z's beat-maker to right-wing internet hero has been an unexpected one. He was once known as the artist who mainstreamed conscious rapping with songs like "All Falls Down" and "Diamonds Are Forever," the man who once declared "Bush doesn't care about black people" live on NBC.
But Kanye shocked fans when he met with the incoming president at Trump Tower in 2016. He reviled fans when he took one of his trademark concert rants to declare that he would've voted for Trump in the election had he cast a ballot.
West retreated from the spotlight for some time after the blowback he faced for his Trump comments. But now he's very much back on online, and has apparently been spending a little too much time in the annals of YouTube.
"I love the way Candace Owens thinks," West tweeted on Saturday.
I love the way Candace Owens thinks

— KANYE WEST (@kanyewest) April 21, 2018
To those with the good fortune of being uninitiated, Candace Owens is an internet personality who made a name for herself railing against Black Lives Matter and liberals on YouTube.
She is a frequent guest on InfoWars, and recently joined Turning Points USA, Charlie Kirk's factory of aggrieved teens.
Owens reacted with glee to Kanye's shoutout, asking for him to "help wake up the black community."
I'm freaking out. @kanyewest ….please take a meeting with me. I tell every single person that everything that I have been inspired to do, was written in your music.
I am my own biggest fan, because you made it okay. I need you to help wake up the black community. https://t.co/Uz1nB9K0Oz

— Candace Owens (@RealCandaceO) April 21, 2018
Kanye announced on Friday that he is set to release two albums — one solo, one with Kid Cudi — in June. If things keep going this way, we might just get the Kanye x Joy Villa collaboration we've all been pining for.
Fans of Kanye West (still holding out a hope for the once universally revered rap superstar) reacted to the revelation that he's been soaking his brain in InfoWars personalities with sadness:
Bruh. This is so disturbing. This says more about you than her.

For those that don't know Candace Owens thinks Donald Trump is a savior. https://t.co/QH1L1gj4Wi

— Bakari Sellers (@Bakari_Sellers) April 21, 2018
As I've said many times before, if I had no dignity I would be a very rich man by now. Candace Owens is making money off of denigrating black folks for her mostly white audience. Same as that Noir guy, same as Stacey Dash, same as Allen West etc. https://t.co/ljA5kgvcS1

— Herb Lawrence (@Ecnerwal23) April 21, 2018
Your fav just introduced hundreds of thousands of people to Infowars. https://t.co/ewpvCsjqJ8

— Carlos Maza (@gaywonk) April 21, 2018
Pretty wild! Kanye giving a shout to a right wing YouTube personality who rose to prominence with Gamergate, now works at Talking Points USA https://t.co/CPcVIHlsEv

— Will Sommer (@willsommer) April 21, 2018
Candace Owens: "Black men getting shot by police isn't about racism."

What is it that Kanye loves about how she thinks? https://t.co/pe3qeITw39

— Touré (@Toure) April 21, 2018
Aside from being an insane alt right race pimp Candace Owens thinks Donald Trump is literally the messiah not you @kanyewest so you might want to reconsider https://t.co/dKVnbi3Ila

— Tom Arnold (@TomArnold) April 21, 2018
AKA Redpill Black — communications director of far-right campus org Turning Point USA, which has been accused of widespread discrimination against minorities https://t.co/IahPD5IQF5

— Joe Bernstein (@Bernstein) April 21, 2018
Kanye being vaguely alt light is the funniest plot twist of the last 2 years and there have been so many funny ones https://t.co/Pofpj3PMSD

— Business Industry CEO ? (@ByYourLogic) April 21, 2018
Today in how to irresponsibly use your platform. Yikes. https://t.co/xiYNWC2Jmt

— Raquel Willis (@RaquelWillis_) April 21, 2018
The easiest way for a black person to achieve success is by attacking the majority of other black people. It's a lazy approach to commentary that requires no serious thought or understanding of the impact of 400 years of systemic social, cultural and political oppression. https://t.co/PsEKxoIzus

— Keith Boykin (@keithboykin) April 21, 2018
The Dilbert guy, on the other hand, had a different take:
For those wondering if Kanye West could someday be president, the answer is yes. https://t.co/xfkhRvQTU8

— Scott Adams (@ScottAdamsSays) April 21, 2018
As did renowned nut (and sitcom star!) Roseanne Barr, who seconded Kanye's endorsement.
bingo.

— Roseanne Barr (@therealroseanne) April 21, 2018
[image via screengrab]
—
Follow Aidan McLaughlin (@aidnmclaughlin) on Twitter
Have a tip we should know? tips@mediaite.com
Aidan McLaughlin - Editor in Chief