Karl Rove Questions Whether Sarah Palin Has Enough "Gravitas" To Run For President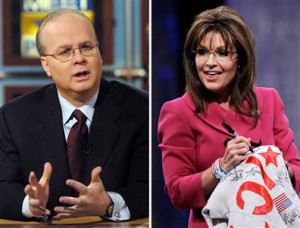 Sarah Palin hasn't announced whether or not she plans to run for president in 2012—but that won't stop people from endlessly discussing whether or not she's up for the task. Now Karl Rove has become one of the speculators… and unfortunately for fans of the Mama Grizzly, he sounds less than optimistic about Palin's chances.
Earlier today, Rove told The Daily Telegraph that Palin's upcoming reality show, Sarah Palin's Alaska, might cause prospective voters to view the former governor as a less-than-serious candidate.
"With all due candor, appearing on your own reality show on the Discovery Channel, I am not certain how that fits in the American calculus of 'that helps me see you in the Oval Office'," he said.
And that wasn't all the conservative stalwart had to say about Palin:
He said Mrs Palin had done a "terrific job" in 2008 when Senator John McCain took her from near obscurity to the vice-presidential nomination, but added: "Being the vice-presidential nominee on the ticket is different from saying 'I want to be the person at the top of the ticket'.

"There are high standards that the American people have for it [the presidency] and they require a certain level of gravitas, and they want to look at the candidate and say 'that candidate is doing things that gives me confidence that they are up to the most demanding job in the world'."
Will these remarks be damaging to Palin? It's tough to say. Karl Rove is still an incredibly prominent Republican, but his influence is not what it used to be. Other comments that he's made recently—such as that the Tea Party is "not sophisticated"—indicate that the adviser could be falling out of touch with what his party has become.
But either way, Rove's assessment does make a lot of sense—especially considering that in the trailer for her series, Palin specifically says that she would rather be snowshoeing and moose-hunting than stuck "in some stuffy old political office."
[h/t MSNBC]
Have a tip we should know? tips@mediaite.com