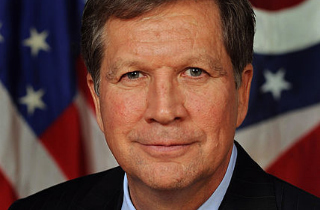 Presidential campaigns have been dropping like flies lately in the wake of this week's Iowa Caucuses, and given that he put an expiration date on his campaign today, John Kasich's could be next.
After taking eighth place in Iowa with only 1.9 percent, Kasich told Bloomberg this morning that he is concentrating his efforts to make an impact in New Hampshire, where he believes next week's primary could reset the race. Though he said that his funding and poll numbers have seen a rise in the last few days, the Ohio governor conceded that he will call it quits if he "gets smoked" again.
"If we don't do well, we're not going to be dragging around like some band of minstrels who beg people to come to our show," Kasich said. "If the conservative Republican Party doesn't care about people who live in the shadows, we will fail, and we will have missed our calling."
Though he appeared in the upper-tier GOP debates, Kasich has struggled for months to make a dent in the polls, and to find a major breakout moment. His recent talking points have included blasting his competitors for tapping into voter anger instead of offering political solutions, as well as promising that he can reunite Pink Floyd as president.
While the latter is impossible, since Syd Barrett and Richard Wright are dead, Kasich may soon find his campaign, and his candidacy, uncomfortably numb.
[Image via screengrab]
— —
>> Follow Ken Meyer (@KenMeyer91) on Twitter
Have a tip we should know? tips@mediaite.com