Katrina Pierson Claims Outlets 'Made Up' Stories That She 'Disappeared' Post-Election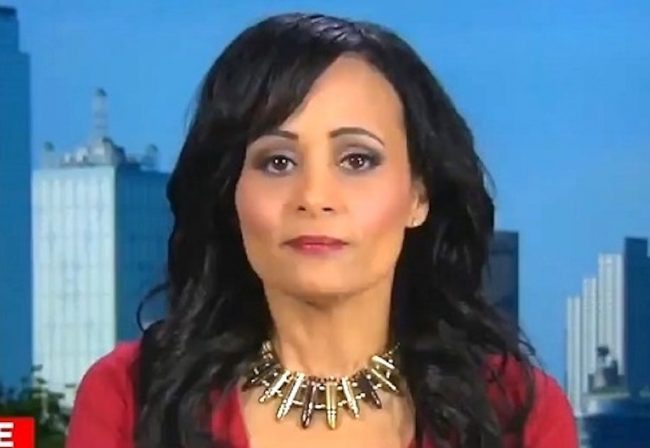 "Where did Katrina Pierson go?" has been a common question in media and political circles lately. The once-ubiquitous face of the Donald Trump campaign was made a few Fox News appearances in the weeks after the election, but seemed to largely disappear except for when she was reportedly job hunting within the Trump administration.
Wait, no. She definitely didn't disappear, according to this tweet from today:
People who don't watch Fox News thought I disappeared ? Outlets literally made up #FakeNews stories but @dailybeast actually got it right ?? https://t.co/HGVZxQXWNQ

— Katrina Pierson (@KatrinaPierson) March 14, 2017
In the tweet, she lambasted outlets that, in her words, "literally made up fake news" about why she hasn't been seen lately. Most reports said she was denied a White House job; she linked to a piece that said she was the one who turned down the role of deputy press secretary. The role later went to Sarah Huckabee Sanders.
In fact, the Daily Beast article she linked to said that Sean Spicer had confirmed he offered her the gig himself, but rumors (which she denies) of an undisclosed beef between Spicer and Chief of Staff Reince Priebus kept her from accepting even though Trump himself wanted her in the White House.
She told the outlet, "I made a personal decision to remain on the outside for now. I have plenty of time to serve."
Now she's involved with a nonprofit called America First Policies, which she promoted on Fox News last Friday. In response to all of the rumors she "disappeared," Pierson said this:
My FB, Twitter, and Snapchat are fairly active so it's not rocket science. It's unfortunate that there are people who lead such boring and miserable lives that they have to negatively reinvent the lives of others to project a perceived value of themselves.
See? The woman with the famous bullet necklace was never really gone.
[image via screengrab]
——
Have a tip we should know? tips@mediaite.com