Katy Tur Slammed on Twitter for 'Condescending Analysis' on Bonuses From GOP Tax Cuts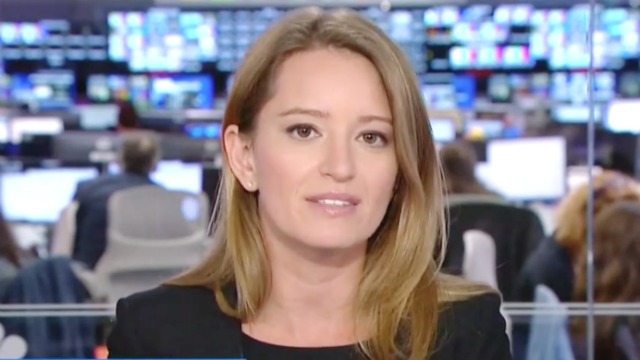 MSNBC host Katy Tur was criticized Monday for her pessimistic view of individuals who've benefited from the GOP tax cuts.
During President Trump's economic speech in Ohio, two individuals took to the stage and expressed their gratitude of the $1,000 bonuses they've received from their employers. One said he would use the money to start a family and a woman said she'd use the bonus to pay for her house.
Well, Tur didn't think those bonuses were that significant. At least on Twitter.
Gentleman at Ohio Trump event says he's going to save to start a family with his 1,000 dollar one time bonus.

Average cost to give birth to one child in Ohio is $5,836.

— Katy Tur (@KatyTurNBC) February 5, 2018
Woman who just spoke says she's going to use her $1,000 bonus and tax cut to help buy a home and pay for her two kids who are going to college.

In Hamilton Co, Ohio (where they are) avg home is $277,582

Avg cost of private college nationally ~35,000
Public $19,000

— Katy Tur (@KatyTurNBC) February 5, 2018
And Twitter ripped her "condescending analysis."
Fascinating logic, by the way. So it would be better if these little poor people didn't get this $1,000? They will forever be childless and destitute? I mean, they couldn't possibly have jobs or anything. Such a weird tweet. https://t.co/Ob70tyHF72

— David Rutz (@DavidRutz) February 5, 2018
Nice… mocking people happy with an additional $1000 bonus, and painting them as stupid.

That'll go a long way in gaining people's trust in the media. https://t.co/eOCoujNced

— The Reagan Battalion (@ReaganBattalion) February 5, 2018
What part of "help" aren't you getting https://t.co/Gc54tAydjU

— Alex Griswold (@HashtagGriswold) February 5, 2018
That $5,836 represents the cost that insurance pays, meaning policy holder pays a fraction of that amount (depending on deductible). So $1,000 may actually go a long way to paying for live birth. Could also cover about 2 years of diapers. https://t.co/CRabKPJgeC

— Philip Klein (@philipaklein) February 5, 2018
This is some monumentally absurd, condescending analysis.

If you got $1,000 and chose to save it, it would absolutely help with a future purchase, starting a family, or college tuition for kids. It doesn't PAY for it, and no one thinks it does. https://t.co/r4DX5l3ytf

— Steve Krakauer (@SteveKrak) February 5, 2018
Imagine hearing a woman describe getting a $1,000 bonus and a tax cut and saying it would help buy a home, and then Googling how much the average home costs in the town she's from to try to portray her as an idiot, like @KatyTurNBC did. Incredible.

— Steve Krakauer (@SteveKrak) February 5, 2018
Many in the Acela Media think people outside the coasts are idiots. Very rarely do they put these opinions on display so publicly, like @KatyTurNBC did.

— Steve Krakauer (@SteveKrak) February 5, 2018
I had far less in savings when I had my first kid. Good for him. https://t.co/kHgk5ZpXYa

— Cam Edwards (@CamEdwards) February 5, 2018
You put those fires out fast. https://t.co/c21P4x1hgV

— Stephen Miller (@redsteeze) February 5, 2018
Right?! Who are these uncultured peasants to say $1000 matters? https://t.co/ygsCgAbOzj

— Jesse Kelly® (@JesseKellyDC) February 5, 2018
[image via screengrab]
Have a tip we should know? tips@mediaite.com