Kevin McCarthy's 2016 House Calendar: No Work After the Super Bowl, and 254 Other Days Too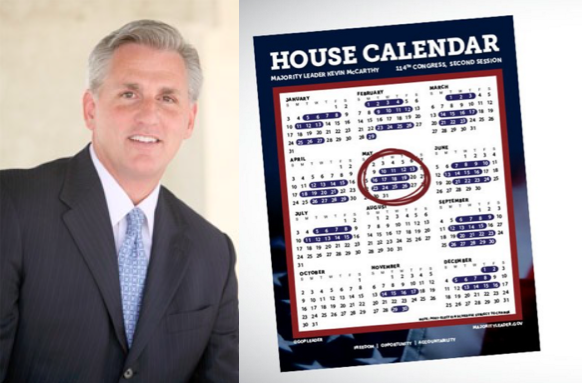 House Majority Leader and former next-House Speaker Kevin McCarthy has released the 2016 schedule for the Congressional House sessions, deemed "D.C. Work Weeks," according to the official release. As is often the point of criticism for our elected officials, their "off" days far outnumber the days in-session, and 2016 will feature a whopping 255 days off. The second session of our nation's 114th Congress will meet for 110 days next year.
The 110 days in-session for 2016 mark the lowest in the McCarthy era, compared to 133 days in 2015 and the 112 of 2014. In fact, in the months of August and October of next year, our Congress will not work a single day. Here are some other random observations about next year's calendar:
The day of McCarthy's 51st birthday (January 26th), will be a D.C. work day.
Paul Ryan's 46th birthday on January 29th is NOT a work day (aww, they're both Aquarius––sensitive, need time alone, and nurturing with their love).
Election Day––Tuesday, November 8th, 2016––is obviously not a work day for Congress, but then again, neither are the FIVE weeks before it, which is weird.
The day after Super Bowl 50 is designated as an "off" day for our Congress. Considering the rest of the week is in-session, I can only assume they're taking off Monday, February 8th to heal the hangovers from their pigskin galas.
President's Day off. Valentine's Day off. Week of Memorial Day off. The weeks of the Republican and Democratic National Conventions––the weeks of July 18th and 25th, respectively––both off.
The entire month of August? Off. I'll pitch the same arrangement for my duties here at Mediaite and see if it'll fly.
There are a few holidays that our Congress will be ignoring in 2016, having scheduled sessions to overlap with the following: Groundhog Day on February 2nd, Thomas Jefferson's birthday on April 13th, and the Jewish holiday of Yom Ha'atzmaut on May 12th. The Feast of Our Lady of Guadalupe on Monday December 12th will be off, however.
You get the picture. This afternoon McCarthy tweeted out the official announcement as if it were a special desk calendar you could buy, tearing off the pages as you see fit to grumble at each day our leadership doesn't show up to work:
The 2016 calendar for the U.S. House of Representatives is now available online at https://t.co/A9s03NhiaB. pic.twitter.com/W6bA1kuS0l

— Kevin McCarthy (@GOPLeader) November 3, 2015
[image via Twitter and Wikipedia Commons]
—
>> Follow J.D. Durkin on Twitter (@MediaiteJD)
This is an opinion piece. The views expressed in this article are those of just the author.