Kid Rock: I Was 'Looking for an Excuse to Tell Michael Moore to Go F*ck Himself'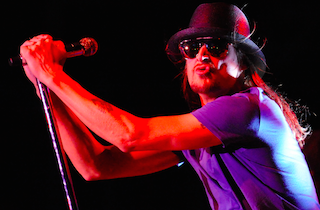 After Michael Moore expressed his problems with American Sniper, and sniper in general, on social media last month, country rock rapper Kid Rock was one of the many celebrities to fire back.
"Fuck you Michael Moore, you're a piece of shit and your uncle would be ashamed of you," Kid Rock wrote on his website, referencing Moore's uncle, who the filmmaker said was killed by a sniper during World War II.
In a new interview with The New York Times Magazine, Rock explained why he decided to target Moore with his comments:
It was something that I could run my mouth on. I've been so connected to the military, so I thought it was my place. Everyone knows, or they should know if they're going to comment, that these guys don't create policy. They get their orders, and that's what they're supposed to do. But I'd be lying if I said I wasn't looking for an excuse to tell Michael Moore to go [expletive] himself. When this came up, I was like, "There it is!"
Kid Rock also weighed in one his personal politics, including his 2012 support of Mitt Romney and potential future endorsements.
"Fiscally, I'm Republican. But the social issues kill me — gay marriage and abortion. It's like, Come on, man, get off it. There's so many big problems we got that we really need to address in this country," the musician said.
As for candidates he might be willing to support in 2016? "I'm very interested in the things that Ben Carson has to say."
[Photo via U.S. Air Force/Sgt. Sean Mateo White]
— —
>> Follow Matt Wilstein (@TheMattWilstein) on Twitter
Have a tip we should know? tips@mediaite.com