Kids Who Commute to High School on the Company Jet (and Other Tales from the Corporate Crypts)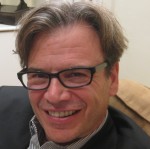 You won't find Michelle Leder anywhere on Mediaite's Power Grid, so Anna Wintour needn't watch her back. Even obsessed media watchers likely have never heard of Leder's site, footnoted.org. But if you are interested in the games corporate America plays, it's one of the best shows in town.
Where else would you learn about Martha Stewart's bizarrely optimistic and perky letter to shareholders last April, released in the teeth of this brutish recession, or the fact that the company pays Martha a $2 million "fee" for the use of her various homes. There's also the $233,000 Goldman Sachs spent on CEO Lloyd Blankfein's car and driver, not to mention his "in-office meals," courtesy of shareholders.  And it's hard to top Qwest Communication's amended employment agreement for CEO Edward Mueller, which allowed his stepdaughter to commute to high school in California from her new home in Denver, where the company is based, on the corporate jet — school buses are, like, so passé!
Michelle Leder is a treasure hunter who dives into the ocean of corporate America's routine SEC filings. It's a vast and awfully deep body of water, by the way. The SEC estimates that there are about 13,000 publicly traded companies in the nation, and every single one of them has to file a proxy statement, which usually runs around 50 pages (among other things, a proxy contains information on perks and executive compensation, which are Leder's main focus). That's a lot to read. Leder says she gets through as many of them as humanly possible each day, and she posts her most amusing findings, often written with surprising panache considering the subject matter, on footnoted.org.
She does all this from footnoted.org's glittering world headquarters, her home in Peekskill, New York, where she lives with her husband Scott and her dog Kumara, whom she says she has trained to dig through SEC filings.
What possesses a person (or dog) to do this sort of thing? Early in her career, Leder, who was an economics major at college, was a reporter at a small Florida newspaper and her first scoop was based on what she says was "an SEC dumpster dive back in the days when filings used to be thick stacks of paper that were physically copied from the SEC Data room."  She's been fascinated with SEC filings ever since. "I wouldn't say I have a fondness for minutiae — more of an appreciation for the things that are public and buried in plain sight."
The site has several means of support. There's a wee bit of advertising, but most of the money comes from high-end subscribers who pay $2,500 a year for a premium version; she also gives speeches, consults, conducts private research for institutions, and is an analyst for Research Edge, a custom research outfit.
If you are looking for a steady stream of posts about Goldman or A.I.G. dirt, however, you will be disappointed. Although she will find the occasional slip-up, like the bit about Goldman's free lunch (the food, not its government hand-out), she says most big firms' filings are so "over-lawyered" that there tend to be few mistakes and goodies for her. She does much better with what she calls the "B" and "C" firms. That may be the main reason footnoted.org remains a niche site whose numbers barely register.
Her top post, in terms of Internet traffic, was on a house that Countrywide had foreclosed on that was being used for sex parties. "You have no idea how many people type in "sex party" or some variation on that in Google and footnoted comes back as a top search result," she says. "One can only imagine the disappointment on all those people's faces when they come across a site that looks at SEC footnotes instead of what you might expect from a site that has the words "sex party" in them."
But the site seldom disappoints its small, devoted and influential group of followers, some of whom manage billions of dollars of other people's money and include some of the biggest names on Wall Street. It's not a sex party, but the information is pretty darned good.
Jim Impoco is a New York-based writer and a former editor of the Sunday Business section of the New York Times and deputy editor of Portfolio. He writes occasionally on Mediaite about the financial press. Please send tips or comments to jimpoco@mediaite.com.
Have a tip we should know? tips@mediaite.com