'Killing the Hope': Mike Huckabee Makes Passionate Plea For National Endowment of the Arts Funding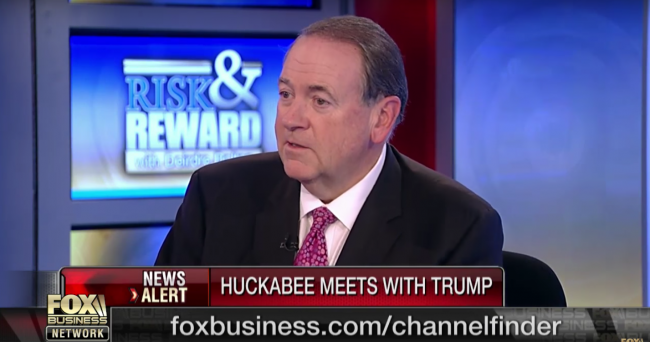 Former Arkansas governor and frequent presidential candidate Mike Huckabee, added his voice to the growing list of politicians criticizing Donald Trump's proposed federal budget.
In the pages of The Washington Post, Huckabee issued an impassioned plea directly to Trump on behalf of the National Endowment for the Arts, saying the program was essential to avoid "killing the hope and help that come from creativity."
Huckabee argued that the real recipients of NEA funding were not glitzy Hollywood celebrities but mostly impoverished children.
I do care greatly about the real recipients of endowment funds: the kids in poverty for whom NEA programs may be their only chance to learn to play an instrument, test-drive their God-given creativity and develop a passion for those things that civilize and humanize us all. They're the reason we should stop and recognize that this line item accounting for just 0.004 percent of the federal budget is not what's breaking the bank.
In addition to the talk of "God-given creativity,' Huckabee made what he said was a conservative case for the program, arguing that studies were more than conclusive showing that every penny put into the program delivered many more in output over time.
Participation in the arts leads to higher grade-point averages and SAT scores, as well as improvements in math skills and spatial reasoning. Do we want students who are less likely to drop out of school and more likely to have academic success, particularly in math and science? Music and art deliver, especially for students likely to get lost in an education assembly line that can be more Pink Floyd's "Another Brick in the Wall" than about creative thinking and problem solving. Creativity finds cures for diseases, creates companies such as Apple and Microsoft and, above all, makes our culture more livable.
The issue is a personal one for Huckabee, who reminded readers in his byline that he was also an "amateur musician."
In addition to the NEA, Trump's budget has come under fire across the political spectrum for its drastic cuts across the federal budget. Many Republican governors have balked at cuts to less well-known programs (like the Appalachian Regional Commission) that stimulate economic growth in areas that went heavily for Trump in 2016.
[image via screengrab]
Have a tip we should know? [email protected]