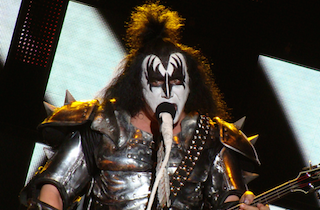 KISS' lead singer Gene Simmons has never been shy about his conservative politics, most recently taking a stab at cable news criticism by declaring CNN dead and Fox News victorious. Now, in a new interview with The San Diego Union-Tribune, Simmons is sharing his thoughts on a host of issues, from personal wealth to immigration.
Here are some highlights…
On being part of the 1%, Simmons echoes Mitt Romney, who he vocally supported in 2012:
"I have been part of the 1 percent for the past 30 years… It's fantastic! The 1 percent pays 80 percent of all taxes. Fifty percent of the population of the U.S. pays no taxes. The 1 percent provides all the jobs for everybody else. If the 1 percent didn't exist, there would be chaos and the American economy would drop dead. Try being nice to rich people. I don't remember the last poor person who gave me a job."
On his policy of "full disclosure":
"People often confuse, at least in my estimation, my pride and self-confidence with arrogance. Because they are not used to people who have an in-your-face, 'take it or leave it/this is how I am' point of view. I'm more like an animal in the jungle that (urinates) on the ground and doesn't ask your permission. 'This is me, this is my territory.' It's simply defining who I am and what I stand for.

That's called full disclosure, before the facts. Others simply hold their opinions to themselves and never say who they are you. You will always know who I am. You don't have to like it; that's OK if you don't."
On being an immigrant (Simmons was born Haim Witz in Haifa, Israel, in 1949, before coming to Queens, New York at the age of eight):
"America is astonishing, because it welcomes immigrants and gives them all the rights that native sons and daughters have … all the opportunities someone who was here for generations has had. For that, I'll be forever grateful.

There's no question there's cultural pressure to assimilate, and that's good. Because the better you speak English, the more money you'll make. It's such a simple idea. Even though I come from Israel and can speak a few languages, when I call IBM, I don't want somebody who answers the phone who I can't understand. Everybody has to speak a common language.

My philosophy is: 'Dress British, think Yiddish.' You're judged by how you sound, how you walk, how you look. People are judgmental whether you like it or not. People are prejudiced. It doesn't necessarily mean people are racist, (although) people are sexist, maybe in a benign way. And I didn't want anybody's preconceived notion of me holding me back from succeeding."
On people who complain too much:
"Every day, people complain about the Kardashians, or about having a bad hair day — which, in my case, is every day — or the Republicans, or the Democrats. Well, you have to shut the (expletive) up! You have nothing to complain about. In America, you have the right to say and do as you please. You can demonstrate and do anything you want, and you have (more) opportunities than anyone in the history of this planet has had.

So we have nothing to complain about. And having someone like my mother espouse that philosophy is the most inspirational and motivating force in my life. Nothing impresses her."
You can read the full interview, containing more where that came from, at utsandiego.com.
[Photo via screengrab]
— —
>> Follow Matt Wilstein (@TheMattWilstein) on Twitter
Have a tip we should know? tips@mediaite.com