KYW Anchor Alycia Lane Allegedly Sexted Co-Host During News Broadcast, Set To Sue Network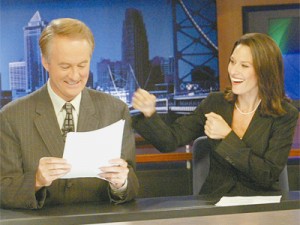 Former Philadelphia-based KYW (a CBS affiliate) anchor Alycia Lane is suing CBS after having been fired for not only having – allegedly! – carried on a heated affair with her co-anchor, Larry Mendte, but for having allegedly beat up a cop as well. Truly, a renaissance woman. Allegedly.
Mendte, you may recall, got into a spot of trouble of his own when it was discovered that he had hacked into Lane's email account following what he described as a "flirtatious, unprofessional and improper relationship" as well as a "long, mutually destructive feud." Further complicating matters was the fact that Mendte was married to Dawn Stensland – herself a newscaster – who had been considering running for Congress at the time. It's almost like a sonnet come to life.
Mendte says that Lane, who was making $780,000 a year at the time she was fired, once took her top off and straddled him in his car as he was driving her home and that the two would routinely send one another inappropriate text messages during their joint broadcasts.
Mendte said he distanced himself from Lane after his wife confronted him about the affair. Lane then grew angry, he says, and proceeded to embark on a feud with him – which is when he decided it would be a good idea to hack into Lane's email in an attempt to discredit his former lover.
Later, it was revealed that Lane had emailed pictures of herself in a bikini to NFL Network anchorman Rich Eisen. She was later arrested for allegedly punching a female police officer in the face while screaming, "I am a reporter, you [expletive-ing] [gay slur] [expletive reserved for females]!" This was, evidently, the straw that broke the proverbial camel's back, and Lane was fired from her job.
In a recent deposition, however, Lane denied the affair with Mendte, saying that he came onto her and she routinely rejected his advances while reminding him that they were both married.
And, thus, the saga continues…
h/t Daily Mail
Have a tip we should know? tips@mediaite.com