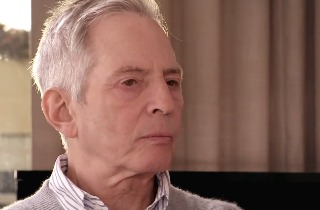 A few weeks ago, a reporter from the Los Angeles Times sent an interview request to Robert Durst, the multimillionaire real estate heir accused of multiple murders and various other felonies, likely not expecting to get a response. Today, they published his supposed response, and it's loopy as all hell.
The Times was unable to verify that Durst, whose weird saga was chronicled in the hit HBO series The Jinx, had actually authored the letter, though the letter's address indicated that it was sent from Elayn Hunt Correctional Center near Baton Rouge, LA., where Durst is currently incarcerated. (Durst was arrested last month in New Orleans, with items suggesting he was trying to flee the country.) But if the content of the letter is any hint, it's probably him:
"I loved watching the traffic come up La Cienega and mush into Santa Monica, hated L.A. traffic which makes Houston seem like a small town," the letter said.

The letter writer said he frequented a nearby coffee shop on Sunset Boulevard and bought an apartment complex, he recalled.

"My interests," the correspondent said, "are opera and pro football."

"Your political and business leaders have chosen to fight rather than agree to disagree and there was no football," he wrote, apparently alluding to the failed attempts to bring a pro-football team to Los Angeles.
The rest of the letter, written in second-grade cursive handwriting, goes on and on about Wagner operas, hydrocephalus, the hospitals where he'd allow "some guy drill into my head", and, oddly, concludes with an invite for the reporter to visit him "when I get to L.A."
"I have said nothing about charges, crimes or trials," the letter writer said at the end. "If you decide to use any of this, which is okay, please make the above clear."
Okay, maybe-Durst! We will!
[The Los Angeles Times]
[Image via screenshot/HBO]
—
>> Follow Tina Nguyen (@Tina_Nguyen) on Twitter
Have a tip we should know? tips@mediaite.com