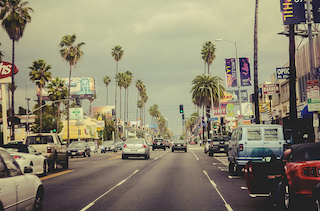 The Los Angeles Times' troll game is strong, very strong.
The Gray Lady has a somewhat condescending habit of "discovering" new places and informing its ostensibly elite readership of them as if for the first time. (In fairness, they do this with neighborhoods in NYC as well; stay out of Ridgewood, vultures!)
So two weeks ago did the New York Times discover New Yorkers were, gasp, moving to this place called Los Angeles, which they basically framed as an up-and-coming coastal franchise called West Williamsburg:
Indeed, Los Angeles has seemingly become the flight fantasy of choice for the likes of Ms. Turner, who insists that anything good she was giving up in overpriced, overstressed Brooklyn is already in place on the booming east side of Los Angeles: the in-season Zambian coffee outposts, the galleries, the vintage clothing boutiques.

…Bearded young New Yorkers can snap up brioche tarts at Proof Bakery in Atwater Village, visit gallery shows at Shepard Fairey's Subliminal Projects in Echo Park, or settle in over barrel-aged rye cocktails at Bar Stella in Silver Lake, and scarcely realize they are more than a stroll away from McCarren Park, except for the 70-degree sunshine tickling their cheeks in February.
In the LA Times, Ann Friedman skewered this gothamicentricity Thursday with a post of her own about Angelenos moving to "New York, that East Coast city often stereotyped as a taco-less wasteland without height restrictions."
This reads as though it were quite satisfying to write:
Southern Californians are overcoming their fears of subway germs, and reversing the American directive to go west. They're finding that New York is more than a capitalist prison that runs on the fumes of the finance industry and nostalgia for CBGB. It now offers many of the lifestyle amenities that their hometown has boasted for decades.

Not too long ago, Angelenos thought of New York as a veritable food desert; as recently as the 1990s, poppy-seed bagels were considered the lone culinary standout. These days, however, New Yorkers can sidle up to the juice bar 3 Roots in Greenpoint for liquid kale and wheatgrass, or stop by Sun in Bloom in Park Slope for a raw-food lunch.

Nikka Graff Lanzerone, an Angeleno who moved to New York after college, has even discovered an In-N-Out Burger replacement called Shake Shack. She notes that it's a close, if more expensive, second to her childhood favorite.
As an Angeleno-born Queens resident, I'm giving my hometown the advantage in this squabble. New York still has the better public transportation.
[h/t LA Times]
[Image via Ben K Adams / Flickr]
——
>> Follow Evan McMurry (@evanmcmurry) on Twitter
Have a tip we should know? tips@mediaite.com