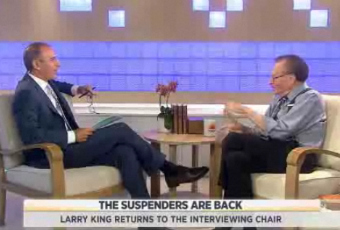 "Larry King is back in the saddle or, should we say, the suspenders," was how NBC's Matt Lauer introduced the legendary host on Thursday morning for a conversation on his return to the talk-show game, via his Hulu-based web show Larry King Now, which premiered Tuesday.
"Were you egging to get back in the game?" Lauer asked. "You've been sitting home for 19 months going 'I want to talk about that, I want to interview that person…'"
"You got it," King said. "I've been all over the world doing speeches, moderating panels. I did a comedy series, doing standup stories, but I miss this. When I sit at home, I never realized I'd miss it that much. Even though I have more time with the kids and more time with the wife, she was glad to get me out."
Lauer responded that King could have just "sat around and relaxed" because he has "enough money," yet he wanted to get back into show business on a daily basis. King explained that the desire came to a hilt the night that Osama bin Laden was killed: "I wanted to jump up, go to the studio and interview the head of the CIA and Department of Defense and ask what happened at that table and how did the president do that. And I wasn't doing that."
The topic then turned to Lauer asking who King would like to interview.
"Castro," King responded. "I went to Havana a couple years ago. He's one I missed. He's always fascinated me. Fidel Castro was probably the longest leader of a country ever. If you think about it, who in history led a country for 60 years? And also the coming from the hills, and a rich family and in prison and out of prison. Fascinating."
No word on whether King is "fascinated" by what Human Rights Watch calls Castro's "highly effective machinery of repression" within Cuba.
– RELATED: Old Meets New: Larry King Debuts New Online Talk Show On Hulu
Lauer expressed surprise that King has never once interviewed rock legend Bruce Springsteen, which is a fact that "shocked" King as well.
After 25 years of hosting Larry King Live on CNN, King left cable television in 2010 for retirement. His replacement, Piers Morgan, has a distinctly different interview style. "Do you ever watch Piers Morgan?" Lauer asked. "Do you like it?"
"I like a lot of it. It's not my style, but I like Piers," King said. "I want CNN to do well. I've never been a person who rooted for people to do poorly. Don't you love our industry?"
Check out the interview below, via NBC:
Visit NBCNews.com for breaking news, world news, and news about the economy
>> Follow Andrew Kirell (@AndrewKirell) on Twitter
Have a tip we should know? tips@mediaite.com