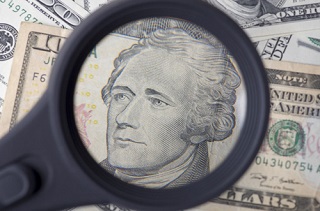 If you're wondering what kind of corset-ripping romance novel might top Fifty Shades of Grey, activist and writer Larry Kramer might be able to help you out. In an interview with Paper Magazine, Kramer promotes his newest book, The American People, and discusses the possibility that George Washington and Alexander Hamilton were both gay — for each other.
Kramer, who has been a vocal activist for the LGBT community since the onset of the AIDS crisis in 1980 in addition to being an Academy Award-nominated screenwriter, playwright, and novelist, points out that while there is no way to prove that the former presidents were gay, it's almost impossible to prove they were straight. Besides, we've only ever heard accounts through a heterosexual lens. He says that "a gay writer could see things that [straight writers] don't see." Which is a delicious way of looking at the relationship between the Founding Fathers, and Kramer also feels that the romance could have also helped build the nation during the Revolutionary War:
[Washington] wanted it to be set up in states and Jefferson wanted the reverse. So the two had a war and Washington didn't like [Thomas] Jefferson as much as he liked Hamilton. Hamilton and Washington were in love with each other. Washington saw Hamilton, and it really was love at first sight. …

[Hamilton] was in love with George and he was also in love with a fellow officer who was killed in one of the wars that was going on.
Kramer discovered that there were letters between Hamilton and this officer that were "so obviously love letters" in which they wrote "effusively" about each others' bodies. Hot, hot, hot. And that's how little baby countries are born!
(h/t Paper)
Have a tip we should know? tips@mediaite.com