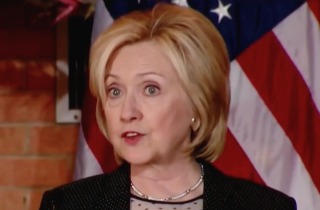 Republican presidential Jeb Bush was criticized by Democratic rival Hillary Clinton for saying last week that part-time working Americans "need to work longer hours." But Clinton once voiced a very similar sentiment in a 2014 speech before a health care group.
Here were Jeb Bush's comments, which attracted Clinton's criticism:
"My aspiration for the country and I believe we can achieve it, is 4 percent growth as far as the eye can see. Which means we have to be a lot more productive, workforce participation has to rise from its all-time modern lows. It means that people need to work longer hours and, through their productivity, gain more income for their families."
Bush later clarified that he was talking about part-time work in particular. "You can take it out of context all you want, but high sustained growth means people work 40 hours rather than 30 hours and that by our success they have disposable income for their families…" he said the following day.
According to CNN, Clinton also lamented in a speech before the Healthcare Information and Management Systems Society that too many people were working part-time jobs. In particular, she claimed that companies were "moving people from full-time work to part-time work" to avoid the 35-hour mark at which point they'd be required to go on Obamacare. She spoke out in favor of "evidence-based changes" to Obamacare and said the problem would have to be addressed.
While Bush and Clinton both spoke out about the same problem, the biggest difference is in tone and word choice. Clinton explicitly attacked corporations for the problem, while Bush's saying "we" had to be more productive helped introduce criticism that he was blaming workers. But ultimately, both candidates said too many people were on part-time work instead of full-time work (and they were right).
[Image via screengrab]
——
>>Follow Alex Griswold (@HashtagGriswold) on Twitter
Have a tip we should know? tips@mediaite.com