Laura Ingraham Tears Into Romney Campaign: He Needs New Communications Team, Strategy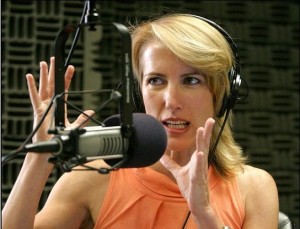 On Friday, conservative radio host Laura Ingraham slammed Mitt Romney's presidential campaign for "down pillow to a gun fight." She went on to say that, while Romney is suited to the presidency, he is so far ill-equipped to mount an effective campaign against President Barack Obama. She advised Romney to "retool" his campaign and shuffle staff in an attempt to retake the lead in the polls ahead of the Republican's presidential nominating convention.

RELATED: Some Conservatives Sounding Alarm Bells, But Can Team Romney Hear Them Over Supporters?
Ingraham prefaced her argument by saying that she knew she was going to make some people angry by noting that it was nearing time for conservatives to panic over Romney's electoral prospects.
Ingraham noted that Thursday's CNN/ORC and Fox News polls both show President Obama leading Romney outside their margins of error, and polls of individual swing states also showed the GOP presidential candidate trailing the President.
"I might be the skunk at the picnic, but I'm going to say it and I'm going to say it clearly," Ingraham said, "Romney is losing."
Ingraham went on to note how there have been decisive conservative victories in purple and blue states like Wisconsin, New Jersey and Virginia over the last three years, it is clear that Romney is failing to make the conservative arguments that led to victories in these states.
"If the election were held today, Mitt Romney would lose," said Ingraham.
Ingraham said it was vexing why Romney seemed unable to outline a clear case for his election. She said that Romney's background and experiences make him "uniquely suited" to tackle America's problems of debt and unemployment, but his present electoral strategy has been a bust.
"You should be killing out there," said Ingraham. "And instead, you're being killed."
Ingraham implored Romney to bring his business sense to the campaign. "Scott Walker is right: The Romney campaign, so far, has been too timid," Ingraham concluded. "They did not want to be going into this Republican convention down in the polls."
Listen to the segment below via The Laura Ingraham Show:
> >Follow Noah Rothman (@Noah_C_Rothman) on Twitter
Have a tip we should know? [email protected]