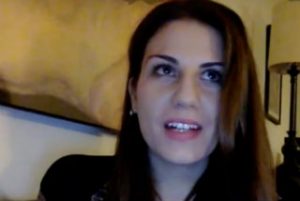 Teen Vogue writer Lauren Duca, fresh off her debate with Tucker Carlson and being at the center of a harassment campaign by widely loathed pharmaceutical magnate Martin Shkreli, has penned a new op-ed about trolls and harassment. Dealing largely with the issue of how detractors argue that she or other women are often told to just leave Twitter even though they use it for work, the piece also singles out Twitters inaction.
"The internet has radically shifted our communication forums, and in many ways the public square has shifted to take place online," Duca writes. "Obviously, right? Duh? OK, so what does it mean if women are being ejected from those spaces by sheer force of will? What does it mean if participation comes at a measurable cost of capitalistic forces like time and energy?"
Other than encouraging Twitter as a company to police itself better, she doesn't offer up any real answers for how to address the platform's harassment problem, but she does offer a startling example of how political discussion isn't necessarily a requirement for someone to target you with harassing tweets. "[It] doesn't necessarily matter [if it's about politics or not]," she explains. "A friend of mine received her own set of vitriol in response to a popular video of her singing the alto part of 'All I Want for Christmas Is You.' Harassment doesn't have too many requirements beyond 'being a woman online.'"
You can read the whole thing at Teen Vogue.
[Photo: TMZ screen grab]
Have a tip we should know? tips@mediaite.com