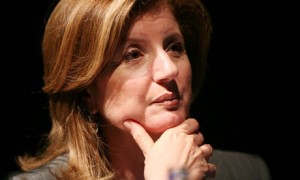 What would the world be like if The Huffington Post was actually The Stassinopoulos Report? Well, we might've had to have taken StassRepo buses to D.C. And also, Arianna Huffington wouldn't have been sued by Democratic consultants James Boyce and Peter Daou, who are accusing her of stealing the idea for a website from their designs, a site that would one day become The Huffington Post.
According to the plaintiffs, Boyce had sent to Huffington a memo "outlining a website where 'political luminaries and public figures should be invited to blog'" back in 2004. Apparently, "The Stassinopoulos Report" (which employs Arianna's maiden name), "Arianna's on Fire," and "Arianna Says" were among the contenders for this new site's name. Their lawsuit claims that she and business partner Ken Lerer pulled an alleged Mark Zuckerberg when they "shook hands at the end of the meeting and said 'It will be great to work together.'" The next year, The Huffington Post was launched sans Boyce and Daou, who "have no written contract, and no evidence that Huffington and Lerer considered them formal partners," only an e-mail in which they seem to take the supposed partnership more seriously than their counterparts.
According to Politico, that might in fact be the case:
Huffington called the charge of stolen ideas and broken deals "a completely absurd, ludicrous supposition" from men whom she'd turned down for jobs on the site.

"We have now officially entered into Bizzaro World. James Boyce and Peter Daou, two political operatives who we rejected going into business with or hiring 6 years ago, and who had absolutely nothing to do with creating, running, financing, or building the Huffington Post, now concoct some scheme saying they own part of the company," she and Lerer said in a written statement to POLITICO, writing that the two "tried to cash in" before filing suit and "said they'd go away for just a little money."
And then things get bizarro-er: according to conservative-media extraordinaire Andrew Breitbart, he actually invented The Huffington Post. As reported by Wired:
"I created the Huffington Post," he says simply. "I drafted the plan. They followed the plan." Huffington disagrees, saying that while he helped with strategy, the idea for the site was cooked up at a meeting in her living room after the 2004 elections. Breitbart, she says, "wasn't present."
At this point, it seems like everybody but Tina Brown invented what we now know as The Huffington Post. So, who's right? Well, the truth is that it probably wasn't invented, only discovered —its model was an inevitable one that was simply waiting for someone to use it. But unless this lawsuit proves otherwise, it will remain Arianna Huffington's model.
Have a tip we should know? tips@mediaite.com