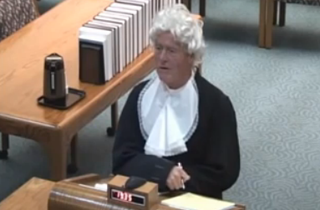 After spectacularly getting his client sentenced to the death penalty for no good reason, lawyer Ira Dennis Hawver was disbarred this weekend by the Kansas Supreme Court — a decision not likely helped by the fact that he dressed as Thomas Jefferson during his disciplinary hearing.
Wearing a powdered wig and 18th-century garb to represent his favorite Founder, Hawver shot back against the accusations against him — that he was incompetent in defending his client, Phillip Cheatham, against multiple murder convictions — and claimed that the Court was trampling all over his constitutional rights. "Our constitutional rights are being eroded, and I ask you to stop," he argued, claiming that while he believed his client to be innocent, he had the "rights to defend my client" as he saw fit.
"I am incompetent!" Hawver shouted passionately during the September hearing, according to the Topeka Capital Journal.. "Anybody who thinks they are representing an innocent person and can't convince a jury is incompetent or ineffective."
But how badly did he mess up this case, which saw Cheatham sentenced to death and over 50 years in prison? Pretty badly, according to most reports:
Hawver knew of a potential alibi defense that allegedly would place Cheatham in Chicago at the time of the two killings in Topeka but did nothing to develop it as a defense, Walczak said.

Hawver didn't know how to trace the location of Cheatham's cell phone calls to establish he might have been outside Topeka when the shootings occurred, Walczak said.

Hawver thought that an agreement signed by Cheatham would release him from any disciplinary action, Walczak said. Walczak urged the justices to disbar Hawver based on intentional violations of his duty to Cheatham.
Oh, and according to the Capital Journal, Hawver also called his client a "shooter of people" during the trial, and actually told the jury "they should execute the killer" during closing arguments.
Thankfully, the Kansas Supreme Court overturned Cheatham's conviction and granted him a retrial, citing the fact that he'd been poorly represented. As for Hawver, he plans on starting a hydroponics farm. (Seriously.)
[h/t Slate]
[Image via screenshot]
—
>> Follow Tina Nguyen (@Tina_Nguyen) on Twitter
Have a tip we should know? tips@mediaite.com