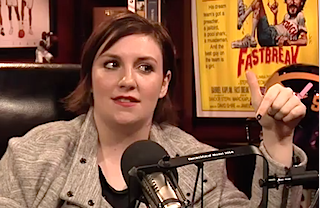 Over the past several months, right-wing media has proven itself to be obsessed with Lena Dunham. But as the Girls creator and star told Grantland's Bill Simmons on his B.S. Report podcast this week, "I don't care what conservative white men think about me."
The two were discussing the brutal backlash Dunham received from conservatives over various portions of her memoir, Not That Kind of Girl
, when she told Simmons she's less concerned about that criticism and more concerned about anything she writes being traumatizing for survivors of sexual abuse.
"The difference between not caring what your sort of 'enemy party' thinks about you and caring about how you affect people whose values line up with yours is very vast," Dunham explained. She added that "pandering" to the people who will never understand what it is she's doing is a "hopeless pursuit."
RELATED: Lena Dunham Avoiding Twitter Because of 'Deranged Neocons'
Addressing the specific accusations that she was a "7-year-old abuser," Dunham said that in her family, "We were taught very healthy boundaries, we were taught sexual boundaries," indicating that there was nothing unusual about the exploration between her and her sister described in the book. She did reiterate that she regrets a joke she made about acting like a "sexual predator" around her sister.
Dunham did have one unexpected compliment for the "right-wing" websites that have devoted an inordinate amount of to "smearing" her book: "They're good at what they do, they know how to do it. They line it up and knock it down."
Watch the full interview below, via Grantland (relevant section begin around 14:00):
[Photo via screengrab]
— —
>> Follow Matt Wilstein (@TheMattWilstein) on Twitter
Have a tip we should know? tips@mediaite.com