Let's All Get To Know Capri Anderson, Charlie Sheen's Porn Star In The Bathroom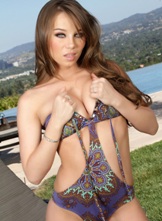 So the whole Charlie Sheen debacle this week is about to get just a little sleazier.
You see, that "escort" locked in the bathroom isn't an escort at all. She's a porn star, Capri Anderson, and as she gets lawyered up, get ready for her to step into the media spotlight!
TMZ has some of the details (and a photo gallery, obviously). Apparently Christina Walsh (real name, not as exciting) met the Two And A Half Men star on Monday night at the Plaza Hotel bar, joined him for dinner with a big group of people, and then went back to his hotel room. Somewhere along the way, she ended up in the bathroom as Sheen raged.
Now Anderson is hiring a lawyer and will press charges. "Anderson claims the actor held her against her will, and that she feared for her life when – after locking herself in the bathroom – Sheen tried to forcibly get in," reports Gossip Cop.
TMZ has this incredibly ironic picture taken hours before the whole thing went down of Capri Anderson and Denise Richards from dinner that night. Also, Anderson has a blog that is VVNSFW! Here's a link if your work won't get mad you're looking at porn.
So where will she end up first? Today show or another morning show? Entertainment Tonight or another celebrity show? Will she go print and give the exclusive to the National Enquirer? Maybe 'wherever Gloria Allred tells her to go'?
Check out Gossip Cop for more info on this ongoing story.
—–
» Follow Steve Krakauer on Twitter
Have a tip we should know? [email protected]