Libertarian Candidate Gary Johnson May End Up Appearing In Presidential Debates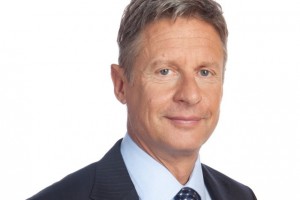 You're all thinking it, so I'm just going to say it: a presidential debate between Barack Obama and Mitt Romney is going to be incredibly dull. However, a third person may be joining them on the stage, because the executive director of the Commission on Presidential Debates told U.S. News' "Washington Whispers" that Libertarian party nominee Gary Johnson might end up debating the two leading candidates, because he is close to meeting the full criteria that allow certain candidates to appear in debates.
RELATED: Libertarian Candidate's New Ad Pleads: 'Be Libertarian With Me This One Time'
This news comes a week after Johnson supporters launched a Blackout CNN movement to protest the network from not giving Johnson enough airtime. The commission's executive director, Janet Brown, said that the decisions for which candidates will appear on stage have not been finalized yet.
"Whispers" runs through the list of qualifying factors needed to get in the debates, showing that so far, Johnson is two for three.
Johnson, of course, fulfills an age and nationality requirement, and he has recently met the second criterion as well: That a candidate's name must "appear on enough state ballots to have at least a mathematical chance of securing an Electoral College majority in the 2012 general election."

But the third requirement could lead to Johnson's exclusion. The commission requires a candidate to secure at least 15 percent in selected polls, which Johnson has not yet done. (Gary Johnson polled at 5.3 percent in a poll earlier this month by JZ Analytics; an April Public Policy Polling poll showed him at 6 percent.)

Johnson campaign spokesman Joe Hunter told Whispers of the 15 center benchmark: "We're certainly working towards that and hoping to achieve it."
h/t U.S. News
—–
Follow Josh Feldman on Twitter: @feldmaniac
Have a tip we should know? tips@mediaite.com
Josh Feldman - Senior Editor