Libertarian VP Candidate Bill Weld Basically Throws in Towel, Urges Voters to Defeat Trump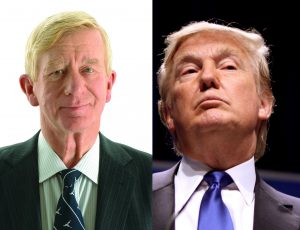 Libertarian VP candidate Bill Weld delivered a statement Tuesday encouraging voters to defeat Donald Trump, whom he said was "not stable." Trump represented the "worst of American politics," he said.
Weld, the former Republican governor of Massachusetts, conceded that the Libertarian party had failed to break the monopoly of the two-party system this year. He said in part:
Against that backdrop, I would like to address myself to all those in the electorate who remain torn between two so-called major party candidates whom they cannot enthusiastically support. I'm speaking particularly to those Republicans who feel that our President should exhibit commonly accepted standards of decency and discipline.

I would not have stepped out of the swirl of the campaign to make this statement if I did not fear for our country, as I do.

A President of the United States operates every day under a great deal of pressure — from all sides, and in furtherance of many different agendas. With that pressure comes constant criticism.

After careful observation and reflection, I have come to believe that Donald Trump, if elected President of the United States, would not be able to stand up to this pressure and this criticism without becoming unhinged and unable to perform competently the duties of his office.
The comments came two weeks before election day, as Weld and his running mate, former New Mexico Gov. Gary Johnson, hover just under 6% support nationally according to a recent RCP poll average. Despite the presence of historically unpopular major party candidates, the Libertarian ticket largely failed to generate a groundswell of support. Even in traditionally Republican Utah, where Trump is distinctly unpopular, Johnson trails far behind conservative independent Evan McMullin.
In an interview with the Boston Globe two weeks ago Weld said that he was planning to spend the remainder of the election focussing on defeating Trump rather than on securing a Libertarian victory.
His statement Tuesday concludes:
In the final days of this very close race, every citizen must be aware of the power and responsibility of each individual vote. This is not the time to cast a jocular or feel-good vote for a man whom you may have briefly found entertaining. Donald Trump should not, cannot, and must not be elected President of the United States.
You can read Weld's complete statement here.
—
Sam Reisman (@thericeman) is a staff editor at Mediaite.
Have a tip we should know? tips@mediaite.com