Did Al Sharpton Charge Michael Brown's Family a Fee? Limbaugh Introduces the Rumor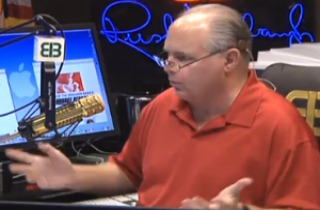 Conservative radio host Rush Limbaugh said on Tuesday Rev. Al Sharpton may have tried charging Michael Brown's family for rallies he led in Ferguson, Mo., last week.
Basing the accusation on something he "can't confirm" nor remember where he read it, Limbaugh said Sharpton requested money from the Browns who refused to pay.
"I probably ought to couch this with — I can't confirm it," Limbaugh said. "No insult to the blogs. It sounds believable, though I can't remember where I read it. Apparently Al Sharpton charged the family money for his help and they told him to go pound sand."
Limbaugh then entirely backed away from everything he said.
"Let's say that that's not true because I can't confirm it," he said. "I can't back it up but I'm telling you I wouldn't be surprised if it's true."
We weren't able to locate any publication, blog or otherwise, with a report that matched Limbaugh's description. There were, however, some tweets that went around Saturday claiming that Jesse Jackson, who is not the same person as Sharpton, was booed during a gathering in Ferguson for soliciting donations.
Regardless, Sharpton tells Mediaite, through a spokeswoman, that he did not request any money from the Brown family.
"Not only did we not charge the family, we are paying for the funeral and have covered all expenses for myself and staff who have been on the ground trying to establish peace and keep the issues focused," Sharpton said in a statement. "We have had staff on the ground for eight days and they will remain until after the funeral. We will not accept or ask for reimbursement, we never have, even when the victims have received monetary settlements. This is what we do as a civil rights organization and I do as a minister."
Michael Brown, a black 18-year-old, was shot dead by a white police officer on Aug. 9. Ferguson is in a state of unrest while the fate of the officer, identified as Darren Wilson, unfolds.
Listen via Daily Rushbo:
[Image via screengrab]
— —
>> Follow Eddie Scarry (@eScarry) on Twitter
Have a tip we should know? tips@mediaite.com