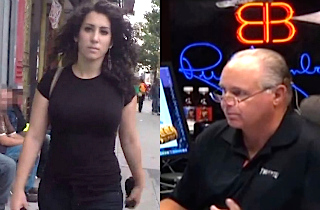 From the moment most Americans saw the video of Shoshana Roberts getting harassed more than 100 times in 10 hours of walking around New York City, they probably thought, "I can't wait to hear what Rush Limbaugh has to say about this." Well, today's your lucky day.
Limbaugh spent a good portion of his radio show Thursday discussing the viral video, which he seemed to find generally underwhelming. At one point he summed up the catcalling as "men being polite" and said he didn't find it particularly "intimidating." But after a break, Limbaugh stepped up his rhetoric, saying that the video itself represents "a massive failure of modern day feminism."
"This was fixed back in the sixties and seventies," Limbaugh said of the street harassment problem. "And what was supposedly going to fix this, we have a name for it. It's called feminism. The early feminists, the feminazis of the modern era, led the charge against this wolf whistle, catcall business."
RELATED: SNL's Michael Che 'Apologizes' to All Women After Watching Catcalling Video
"People misunderstand me on the women's movement," the host said later. "I love the women's movement, especially when walking behind it. People think that I am biased against it, but I'm not. You put me in the right place, I'm all for the women's movement. But it has failed in this instance."
Limbaugh goes on to smear Roberts herself as a "budding actress" who "proudly announces that she has a bust size of 34 DD" on her website resume. "This woman puts it out there," he said.
Listen to audio below, via The Rush Limbaugh Show:
And watch the full catcalling video below, via YouTube:
[Photo via screengrab]
— —
>> Follow Matt Wilstein (@TheMattWilstein) on Twitter
Have a tip we should know? tips@mediaite.com