Limbaugh Goes After Gore For Getting 'Richer Than Evil White Guy Romney' By Selling Current TV To 'Terrorists'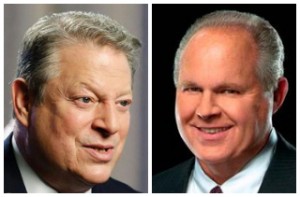 It appears that Rush Limbaugh is just catching up on the news that Al Gore has sold his struggling Current TV cable network to Al Jazeera. The news broke back in early January, but with Bloomberg News and a profile in New York Magazine this week pointing out that Gore is likely "richer now than an evil white guy by the name of Romney," Limbaugh thought now was a good time to weigh in.
"That how valuable losing the presidency can be," Limbaugh stated. "Honestly, he creates a TV network that nobody watched, and sells it to the terrorists." At that point, Limbaugh made a big display of coughing and telling his producers they had 35 seconds to bleep that last statement before it goes out on the air, though it's not clear he had any real intentions of hiding his belief that Al Jazeera and "the terrorists" are one in the same. After taking a vote, he concluded, "the vote is to leave it in. Screw 'em."
Moving on, Limbaugh accused Gore of "parlaying this global warming hoax into a huge fortune" and marveled that he could be on the same level as Romney. "I wonder how much money Al Gore gives to charity, compared to Mitt Romney." We know that the vast majority of Mitt Romney's charitable giving went to the Mormon Church. While Gore, as a private citizen, no longer has to disclose his tax returns, he did come under fire towards the end of his second term as vice president for donating only $353 to charity.
Listen to audio below, via Rush Limbaugh:
—
>> Follow Matt Wilstein (@TheMattWilstein) on Twitter
Have a tip we should know? tips@mediaite.com