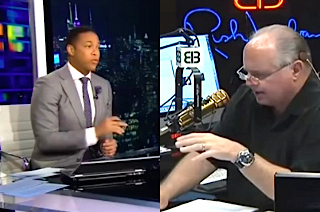 Rush Limbaugh was evidently outraged by CNN host Don Lemon's oral sex-related question to Bill Cosby rape accuser Joan Tarshis, but not for the same reason that many others were. As he has done in the past, Limbaugh used Lemon's presence in the news to make snide comments about the anchor's sexual orientation.
After warning any parents listening with children that the content of his show was about to veer into adult territory, Limbaugh described the CNN discussion as being about a woman who "engaged in a Lewinsky with Cosby," a reference his audience can no doubt comprehend.
"Don Lemon wants to know why this woman did not attack Cosby during the Lewinsky," Limbaugh said. "And she doesn't know what he means at first. So he has to describe what he means, and he did quite well. And in so doing, Don Lemon actually portrayed his own level of expertise in this particular mode of love making."
RELATED: Limbaugh Hits CNN for Cosby Rape Coverage: 'It's Not Like He Did It Yesterday'
The conservative talker made similarly unnecessary allusions to Lemon's sexuality back in April after the CNN host called him a "stunt king" on air for trying to tie Donald Sterling to President Barack Obama. In his retelling of the CNN clip, Limbaugh apparently could not help but describe Lemon as someone "who sleeps with men, proudly."
Limbaugh clearly has something against Lemon, and all evidence points to the fact that the feeling is mutual. But what's with all the gay jokes? If there is a legitimate point buried in his critique of the CNN segment, it becomes completely lost when he injects cheap shots like this one.
Listen to audio below, via The Rush Limbaugh Show:
And watch Lemon's Cosby segment below, via CNN:
[Photo via screengrab]
— —
>> Follow Matt Wilstein (@TheMattWilstein) on Twitter
Have a tip we should know? tips@mediaite.com