Limbaugh Rips Obama's 'Feigned' Concern: He 'Enjoys…Reciting' Pain Americans Will Feel From Sequester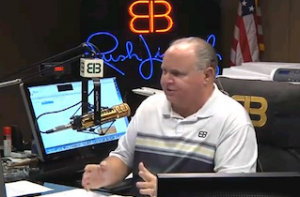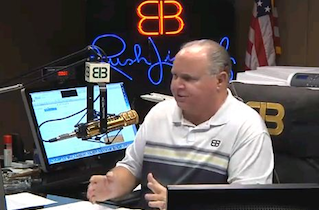 With no deal ahead of the deadline for the automatic spending cuts to take effect, President Obama held a press conference on Friday — during which he continued to point the finger at Republicans, holding them accountable for lack of progress. Rush Limbaugh grew tired of this reasoning, during his show, criticizing Obama for feigned concern.
The presser and everything Obama said leading up to it has been "narcissistic" and "self-indulgent," Limbaugh asserted, adding, "I've never seen this kind of self-absorption."
"This president stands up there today and he enjoys, folks, reciting the kind of pain Americans are going to feel," he continued. "He is supposed to be doing things to prevent all of this, and yet not only is he not doing things to prevent it, he is encouraging these kinds of hurtful, harmful things to happen so he can blame the Republicans for it."
Contending that Obama's objective is to rid himself of political opposition, the radio host went on to say the president "benefits, politically, career-wise, he benefits from this pain" — so long as the blame is pushed onto someone else.
"There is no real concern for people and their lives," he said. "That's feigned."
Obama's 2012 interview with the Des Moines Register foreshadowed this despite his insisting the automatic cuts weren't his idea, Limbaugh continued. Specifically, he cited the quote in which Obama said: "So when you combine the Bush tax cuts expiring, the sequester in place, the commitment of both myself and my opponent…we're going to be in a position where I believe in the first six months we are going to solve that big piece of business."
Yet he said the sequester wouldn't happen during a presidential debate, Limbaugh noted — and both statements can't be true. In the Register interview, he concluded, Obama meant what he said.
Listen below:

Have a tip we should know? tips@mediaite.com