Limbaugh: We're Supposed To Ignore Obama's Relationship To Rev. Wright, Yet Santorum Is Responsible For Friess?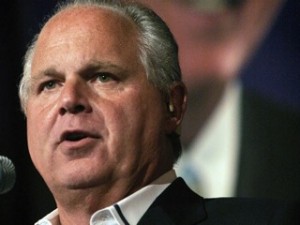 Radio host Rush Limbaugh weighed in one the Foster Friess "aspirin" kerfuffle Friday, calling out Rick Santorum — the candidate whose campaign, of course, Friess has contributed much time and money to — for
Santorum, Limbaugh notes, addressed Charlie Rose's questions on the matter this morning by distancing himself from Friess and noting that, actually, he has voted in favor of "Title X" — federal funding of contraception. "My record," he'd told Rose, "stands for itself."
RELATED: Furious Rick Santorum Fights Charlie Rose Over 'Gotcha' Question On Aspirin Joke: 'This Is What You Guys Do!'
Limbaugh commended Santorum on contrasting the media's treatment of Friess' comment with the way it dealt with President Barack Obama's relationship to controversial pastor Jeremiah Wright.
"That's a good recovery," Limbaugh told listeners. "And I like that. It's a point that I made just moments ago — Rev. Wright, Obama's in his pew for twenty years! He didn't hear what he said! And if he did, it doesn't matter. You can't tie Obama to Rev. Wright. That's guilt by association. You can't do that!"
(For those of who not terribly familiar with Mr. Limbaugh: Yes, he was being sarcastic.)
"I just wish," he added, "that Rick hadn't thrown Friess overboard. That's all. But that's just me."
RELATED: Greta Van Susteren Holds Santorum's Feet To The Fire Over Supporter's Aspirin As Contraception Remark
To really bring things on home for his listeners, Limbaugh played various clips from Rev. Wright's speeches and sermons, including his cry of "God fuck America!"
So that we're supposed to either forget or ignore, particularly when it comes to asking whether being exposed — voluntarily and over a long period of time — to such ideas might have, in any way, shape or form, made an impression on Obama. But Friess' comment about holding an aspirin between one's knees as an old-timey method of contraception? "This," Limbaugh said, mocking various pundits, "this is creepy, it's filthy, it's trashy, it's dirty, it's insulting, it's repulsive, it's stupid, it's off-color, it's profane, it's all the rotten, worthless stuff in the world that we're supposed to never hear."
RELATED: Santorum Supporter Stuns Andrea Mitchell With Memories Of How 'The Gals' Used Bayer Aspirin As Contraception
Limbaugh then offered his impression of Wright's choicest pearls of wisdom, including one about Bill Clinton "riding dirty." Which, he pointed out, adds an interesting element to this whole conversation. We're supposed to laugh at comments about former President Clinton's treatment of Monica Lewinsky and at JFK's countless extra-marital relationships and, yet, he asked, Republicans are the party that hates women?
Have a listen, via The Rush Limbaugh Show:
Have a tip we should know? [email protected]