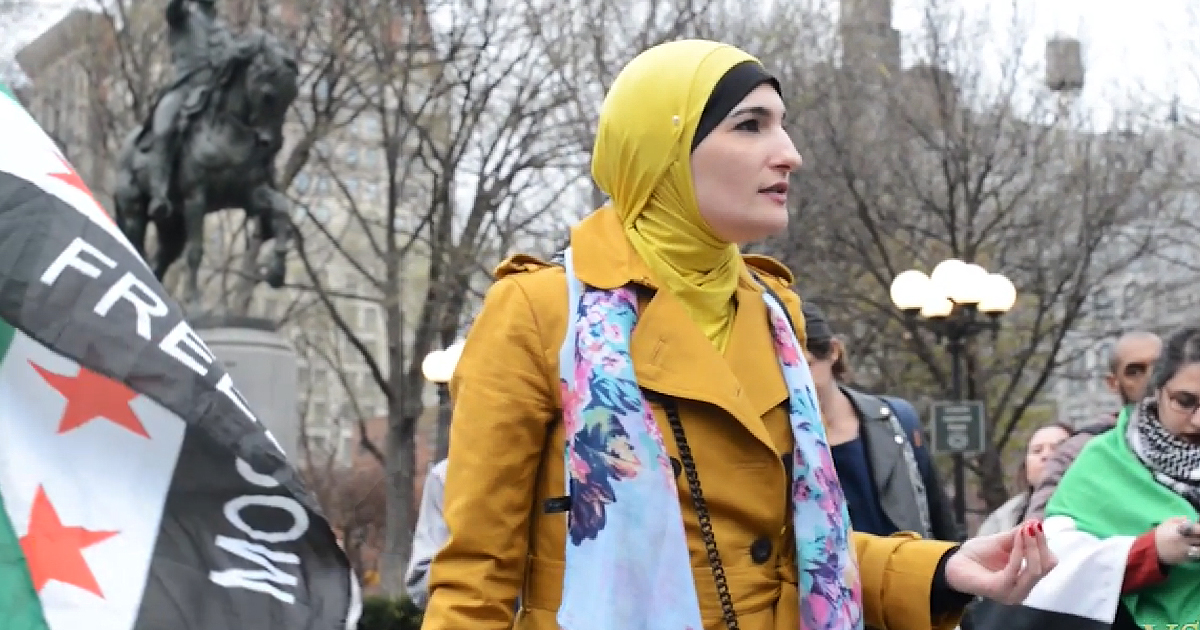 Pro-Palestine activist and Women's March leader Linda Sarsour weighed in on the controversy over comments by Rep. Ilhan Omar, in which the Minnesota Democrat mocked the American Israel Public Affairs Committee (AIPAC) in tweets described by many as blatantly anti-Semitic.
Sarsour has herself been the subject of similar accusations over her activism and, along with other members of the Women's March leadership, the association with and support for anti-Semitic Nation of Islam leader Louis Farrakhan.
"I will not be silent in the face of attacks, harassment and targeted policing of speech from a Black Muslim woman elected official, our sister Ilhan Omar in the name of combatting antisemitism," Sarsour wrote in her closing on Facebook.
Most of the post was written as a defense of attacking AIPAC, without recognition of the specific tweet that prompted the most responses, including one from former first daughter Chelsea Clinton. In that tweet, Omar retweeted a a post about pro-Israel influence on U.S. politics with, "It's all about the Benjamins, baby."
Politico's Joshua Zeitz's response gained the most traction online, when he said by Twitter reply to New York Magazine's Yashar Ali. "She might as well call us hook-nosed," said Zeitz in his tweet.
"Calling out AIPAC is not antisemitic," said Sarsour in her defense.
Major Democrat politicians, including Speaker Nancy Pelosi, had already offered their own rebukes of Omar prior to the Facebook article from Sarsour, referring to "anti-semitic tropes" in her criticisms.
AIPAC of course offered their own response, and many verified Twitter accounts, including the Chair of the RNC Ronna McDaniel, offered responses or criticisms on Monday in a fairly bipartisan and widespread reaction.
Not long after Sarsour's defense, Rep. Omar issued a statement, saying she is "listening and learning, but standing strong" and including an apology for how some people took it. "My intention is never to offend my constituents or Jewish Americans as a whole," she said. "This is why I unequivocally apologize."
Omar then equivocated, using the same argument Sarsour made, using almost the same words.
Sarsour said "AIPAC is one of the most influential lobbies in American politics – alongside the NRA (maybe not anymore), fossil fuel industry and big pharmaceuticals."
Omar in her statement said "I reaffirm the problematic role of lobbyists in our politics, whether it be AIPAC, the NRA, or the fossil fuel industry."
The degree of that lobbying is not established in either statement or criticism. As an editor at Ben Shapiro's Daily Wire, Emily Zanotti, pointed out on Twitter. AIPAC's pro-Israel lobbying is a "measly $3.5M in a good year. It barely even cracks the top 50, is dwarfed by the *beer wholesalers*," Zanotti wrote. "In contrast, Planned Parenthood's PAC spent $20M in 2016."
Have a tip we should know? tips@mediaite.com
Caleb Howe - Contributing Editor