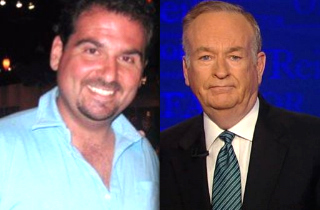 Fox News' Bill O'Reilly went on Dan Le Batard's ESPN Radio show Monday to promote the latest in his "Killing" book series
. But when the questions veered into territory he didn't want to talk about, O'Reilly abruptly hung up mid-interview, just before the host played audio of his infamous "Do it live!" outtake.
The conversation started out cordial enough, with O'Reilly plugging his book and discussing his biography and background. But towards the end of the interview, the host asked O'Reilly to discuss the more controversial aspects of his career and he said he did not want to comment on other people's smears.
When they pressed him to reveal the incident that caused him the most "unrest," O'Reilly replied, "I'm not going to get into any of that stuff" and said if they didn't have another question for him he would "say goodbye."
"Wait a minute, what do you mean you're not going to get into any of that stuff?" the host asked. "I don't understand!"
At that point, O'Reilly apparently said goodbye and hung up the phone before they could confront him with the audio from a moment he thought was off-camera on Inside Edition so many years ago.
"There's no way he's still there, right? He's gone? He left?" Le Batard asked. "Oh, I wanted his reaction to that so bad."
Listen to the full interview below below, via ESPN:
[Photos via ESPN/Fox]
— —
>> Follow Matt Wilstein (@TheMattWilstein) on Twitter
Have a tip we should know? tips@mediaite.com