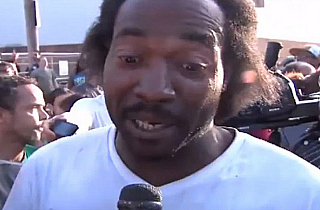 Out of the horrific story that is the Cleveland kidnapping of three young women for 10 years of their lives, an Internet sensation has emerged in the form of Charles Ramsey — the neighbor who found and assisted Amanda Berry as she attempted to escape her captors' home and proceeded to alert the authorities and shelter the freed victim.
Ramsey's charismatic and hilariously descriptive TV interviews have made him yet another viral sensation and a brief smile-worthy spot in what will surely unfold to be a tragic story of kidnapping, sexual abuse, torture, psychological damage, etc.
At this moment, Ramsey is America's favorite hero. (Side note: are we even allowed to call Ramsey a "hero"? Have we checked in with Breitbart's Ben Shapiro to make sure that's allowed?)
If you thought his many TV interviews were hilarious and made you want to go to Cleveland and have a beer with this man immediately, wait until you hear the epic, profanity-laden 911 call.
Listen below (NSFW). Full transcript below the video:
RAMSEY: I'm at 2207 Seymour, West 25th. Hey, check this out. I just came from McDonald's, right? I'm on my porch, eating my li'l food, right? This broad is tryin' to break out the fuckin' house next door to me. So, it's a bunch of people on the street right now and shit, so we like well, what's wrong? What's the problem? She like, 'This motherfucker done kidnapped me and my daughter and we been in this bitch.' She said her name was Linda Berry or some shit, I don't know who the fuck that is. I just moved over here, bro.

DISPATCH: Sir, sir, sir, sir. You have to calm down and slow down. Is she still in the street?

RAMSEY: Yeah, I'm lookin' at her. She callin' y'all. She on another phone.

DISPATCH: Is she black, white, or Hispanic?

RAMSEY: Uh, she white. But the baby look Hispanic.

DISPATCH: Okay, what is she wearing?

RAMSEY: Uh, white tanktop, light blue, uh, sweatpants. Like a wife beater.

DISPATCH: Do you know the address next door? That she said she was in?

RAMSEY: Yeah, 2207. I'm lookin' at it!

DISPATCH: Oh, I thought that was your address.

RAMSEY: Nah, I'm smarter than that, bro. I'm telling you where the crime was.

[…]

DISPATCH: And the people she said that did this? Do you know if they still in the house?

RAMSEY: I don't have a fuckin' clue, bro. I'm just standing here with my McDonald's.

DISPATCH: Can you ask her if she needs an ambulance?

RAMSEY: [To Berry: Do you need an ambulance? Or what?] She need everything. She in a panic, bro. I think she been kidnapped so, you know, put yourself in her shoes.

DISPATCH: We'll send the police out.

RAMSEY: There you go!
— —
>> Follow Andrew Kirell (@AndrewKirell) on Twitter
Have a tip we should know? tips@mediaite.com