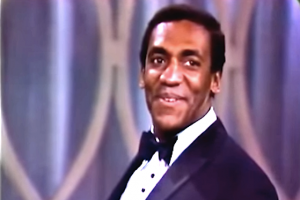 As more and more disturbing details about numerous rape allegations against comedian Bill Cosby emerge, a decades old bit from his 1969 album It's True! It's True!
has all of a sudden taken on unfortunate new resonance. The routine, unearthed by the Village Voice's Alan Scherstuhl finds Cosby fantasizing about drugging women's drinks with an aphrodisiac called "Spanish Fly."
In the clip, Cosby describes his childhood fascination with the drug, which was rumored to make women fall all over you if you slipped it in their drink. He then goes on to tell the story of traveling to Spain as an adult and desperately trying to get his hands on the stuff. The anecdotes told in the routine are likely not fully based on reality and instead used to serve the comedic scenario, but in light of the fact that drugs are believed to have been used in the alleged assaults, the bit takes on disturbing meaning all these years later.
Scherstuhl writes:
Even when I heard this bit as a kid, I wondered: Why would famous TV stars need a drug to get women interested in them? Why is sex something to lie and cheat and scheme to get, rather than something to share? Hearing it now, it's positively chilling, especially the crowd's easy laughter, which suggests that Cosby was able to put over his fantasy of women stripped of their ability to say no as something near universal.
Listen to the clip below:
[h/t Death + Taxes]
[Photo via screengrab]
— —
>> Follow Matt Wilstein (@TheMattWilstein) on Twitter
Have a tip we should know? tips@mediaite.com