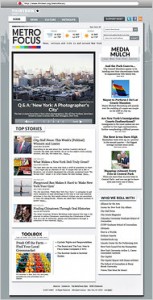 We love local news shows here at Mediaite. They produce the wackiest segments. I mean, check this selection out. That being said, one of the only things we appreciate about local news is their silliness. As our columnist Philip Bump suggested, local news is caught somewhere in between national news and social media and ratings suggest that no one really cares about that middle ground.
Enter Neal Shapiro. The New York Times' Business Section reported that as the President of WNET, he recently started a new venture called "Metro Focus". WNET is a New York based public broadcasting company and Metro Focus will be their latest local news venture.
Metro Focus is currently a website. According to Shapiro, it is eventually going to be a half an hour program. Currently though, the site is divided up in to three sections: "News", "Culture" and "Metrolife". According to Laura van Straaten, the sites editor-in-chief and executive producer, it is updated twice a day. However, she notes that it is not necessarily a place for breaking news: "we'll be doing a lot of write-arounds, finding the best stuff that other people are doing and wrapping it up in a smart way."
The eventual plan for Metro Focus is for it to be first a monthly, then weekly and then eventually daily television show on WNET. WNET is currently raising funds to produce the show, but Shapiro says that it is expected to be on air by the Fall and will become a daily problem by the new year.
The website will hopefully promote the program as its producers get organized. Perhaps this online to television transition will prove help Metro Focus succeed where other local news shows have failed: in attracting viewers.
(h/t)
Have a tip we should know? tips@mediaite.com