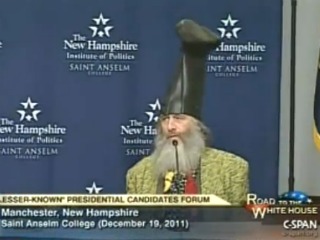 National politics may steal most of the mainstream media's time and attention, but a look at local politics can reveal personalities who are less filtered, less primed for prime time and, most importantly, aren't the same politicians discussed ad nauseum. In that spirit, here's an ongoing look at some of the more noteworthy, surprising, and/or inspiring personalities working within local politics today.
When local "friendly fascist" Vermin Supreme places his giant boot hat on his head and thoughtfully strums his impressive beard, he means business. Business and dental hygiene. Described as a "performance artist, anarchist and activist," whom, per his website, is "not to be confused with Waffles the Clown," Vermin Supreme has participated in elections at various levels of government, this time focusing his efforts on his 2012 run for president of the United States.
RELATED: Locally Sourced: Meet Sandra Queen Noble, A Cincinnati City Council Candidate
Speaking at New Hampshire's Saint Anselm College back in December, Vermin Supreme rightfully noted that "gingivitis has been eroding the gumline of this great nation long enough," adding that our country has been suffering "a great moral and oral decay, in spirit and incisors." For truly, how can we, as a country, hope to "bite back" when we are essentially a "nation in dentured," our "very salivation at stake"? These are the questions no one else is asking.
In 2006, Vermin Supreme underwent surgery to give his mother a kidney — a fact he shared during the lesser-known candidates forum — and hopes to make kidney donation mandatory when he is elected President. A kidney in every body, and a pony in every home. Speaking of viscera, Vermin Supreme is also keen on harvesting energy from a natural, renewable energy resource: Zombies.
Vermin Supreme closed his speech in New Hampshire by glitter bombing fellow candidate Randall Terry, a pro-life activist and newly-minted Democrat, because Jesus told him to "turn Terry gay." Par for the course.
Have a look at his speech (in multiple clips) in New Hampshire, via C-Span:
h/t
Videogum

Have a tip we should know? [email protected]