Locally Sourced: Meet Sandra Queen Noble, A Cincinnati City Council Candidate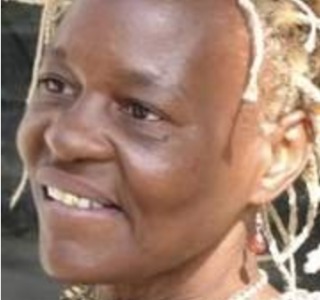 National politics may steal most of the mainstream media's time and attention, but a look at local politics can reveal personalities who are less filtered, less primed for prime time and, most importantly, aren't the same politicians discussed ad nauseum. In that spirit, here's an ongoing look at some of the more noteworthy, surprising, and/or inspiring personalities working within local politics today.
Sandra Queen Noble is currently one of several candidates vying for a seat within Cincinnati's City Council. Cincinnati.com offers a brief biography of Noble, noting that the 55-year-old refers to herself as an "innate queen" who can "go right straight to England, put Queen Elizabeth in check."
She is also finely attuned of one important factor that many political candidates fail to utilize to its utmost potential: Fashion.
She wore a suit jacket to one council forum, then called women in suits "corrupt" and took the jacket off to show she's not one of them. She says she doesn't understand why people keep electing the same corrupt politicians.
Indeed, when Sandra Queen Noble isn't immersed in local politics, she works as a "fashion designer in Walnut Hills who designs tails, which she wears."
And this is not Noble's first foray into politics. She has made several mayoral, congressional and presidential runs since 1984. In fact, in an interview prepared by the League of Women Voters of the Cincinnati Area, Noble reveals that, specifically, she has run as a "presidential candidate four times. Mayor, six times, City Council and Congress twice." In addition, Noble had sued the government for several trillions dollars (some reports have the number at $720 trillion, while others indicate it was as high as $994 trillion.), alleging that it had unlawfully taken her children.
NBC Washington reports that "in her 2005 Cincinnati campaign, she issued several brief, strange position papers, and wound up with 121 votes. During a television appearance in that campaign, she showed up for a television forum 'wearing curly, green gift wrapping ribbon all over her hair, and a shiny, gold Stetson on top of that (seemingly plastic).' She said the color denotes her royal heritage."
Her promises to end corruption in law enforcement are particularly noteworthy given that, according to SmartVoter.org's profile on Noble, her occupation is listed as "Law Enforcement Officer (Security)." Her education is listed as "PhD: Poor hungry and Dangerous" and her political party, of which she is the founder, is "The H.E.R.O. AND S.H.E.R.O. Party," which stands for "Helping Equal Rights Opportunity."
Have a tip we should know? tips@mediaite.com